Jagielka and Beckham make England Squad
February 7th, 2009 | by: Rob |

View Comments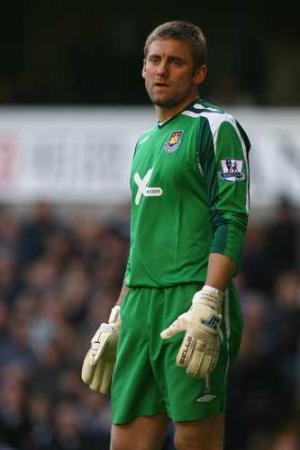 Don Fabio has announced the England Squad to take on Spain on Feb 11th, and David Beckham indeed makes the squad, which also makes room for Everton defender Phil Jagielka (who has been busy making Torres, Drogba and Berbatov look distinctly average this season), and in-form striker Carlton Cole who has hit a bit of a golden streak recently.
Fabio also thanked Sir Alex's non-interfearence policy by not picking Wayne Rooney anyway, replaced in the squad by Gabby Agbonlahor, who has the company of five of his teammates in the squad.
Rob Green also (at last) gets his call up. Full squad, and my reaction, after the jump.
Goalkeepers: Green (West Ham), Hart (Man City), James (Portsmouth).
Defenders: Bridge (Man City), A Cole (Chelsea), R Ferdinand (Man Utd), Jagielka (Everton), G Johnson (Portsmouth), Terry (Chelsea), Upson (West Ham), L Young (Villa).
Midfielders: Beckham (LA Galaxy), Barry (Villa), Carrick (Man Utd), Downing (Middlesbrough), Lampard (Chelsea), Milner (Villa), Wright-Phillips (Man City), A Young (Villa).
Forwards: Agbonlahor (Villa), C Cole (West Ham), Crouch (Portsmouth), Heskey (Villa).
Looks okay, other than perhaps a lack of firepower up front. I don't really think the England squad is ready for yet another Cole just yet, despite his good form. I assume however that Fabio will continue playing 4-5-1, with Agbonlahor leading the line.
I assume Ashley Young is going to play Left against Spain too, which is an overdue call-up for him. Gareth Barry and Stewart Downing can both play in that position as well. There's obviously a few inclusions that are there just because of injuries (Milner), but its an ok midfield.
I do think its good to see Green in the squad (I'd like to see him play too to see how he copes with a semi-pressure enviroment), Jags has played well for Everton, and its good to have both Terry and Rio for once.
Beckham will of course equal Bobby Moore outfield record if he plays (he likely will) against Spain.
Not bad, Fabio.
Subscribe

England Football Team World Cup Blog RSS Feed

Share
blog comments powered by Disqus