Man Crush Alert, Sepp Eyes Beckham
December 2nd, 2009 | by: Matilda |

View Comments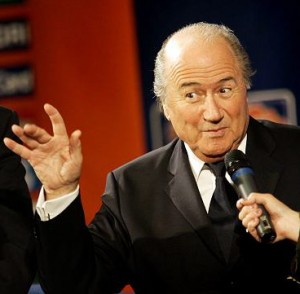 OK so maybe I'm blowing this a little out of proportion, but can you blame me? Something's finally gone right for the bid! Sepp, the eternally foolish president of FIFA, has gotten his creep on. David Beckham, who traveled down to South Africa in a last ditch attempt to pick up the pieces of our bid and make them into a charming collage, has gotten Sepp's backing. According to the Guardian Sepp gushed:
"I like to see him everywhere and always"
Really Sepp? Everywhere and always? That's a pretty serious commitment. But as I said, after Sir Dave Richards' not-so-subtle resignation, which showed the internal disarray of the bid, I'm taking what I can get.
It seems to me that David Beckham's celebrity (and dashing good looks in Sepp's case) are the only things that will save the bid now. After Jack Warner's lashing out and Dave Richards display of treason, the bid is left looking fairly foolish. Which is silly as England is an ideal place for the World Cup. It has the stadiums, public transport, it's not too big, and most importantly has an excellent football culture. So, Mr. Beckham, I beg you, get us the World Cup! No one else will be able to.
I leave you with another fantastic quote from Blatter's love-fest
"They [England] have to use him for everything forever."
Everything? Forever?
Subscribe

England Football Team World Cup Blog RSS Feed

Share
blog comments powered by Disqus