What Exactly Is Going On In Here?
March 11th, 2010 | by: Matilda |

View Comments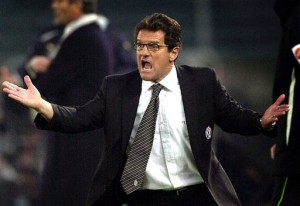 When he first arrived, he was hailed as the man who would sort it out. he had an impressive record, getting silverware with all four of his clubs. He was the disciplinarian, slightly old-fashioned, but he got things done. Not to mention, his fancy specs scream authoritarian. But recently, things seem to be getting a little out of control.
Obviously the minutia of the Bridge-Terry civil war were out of his control, but then Bridge completely undermined him by pulling out of the squad the day after Capello assured the public everything was done and dusted. Now it's come out that some of his conversations have been bugged, and while it doesn't exactly show he has no control, it definitely is a threat to his authority.
Capello himself came out today saying that the psychology of the England camp is vital, and seeing as he's only coached at club level before, he's not exactly a pro. I'm sure his statement about making it to the semis was a psychological move. he was letting his players know what he expects of them.
Capello needs to focus on keeping his team together. I'm sure many of them picked sides on the Bridge-Terry ordeal, and now that the dust has settled they need to come back and be a team. He is, of course, getting no help from the media, but I think if anyone can mold a team out of what is quickly falling apart, it's Capello. And his snazzy glasses.
Subscribe

England Football Team World Cup Blog RSS Feed

Share
blog comments powered by Disqus