What do we do now?
June 18th, 2010 | by: SoccerLimey |

View Comments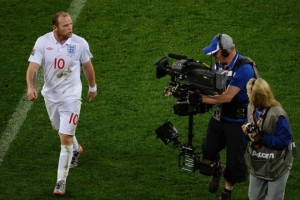 Being in my middle-50's, I consider myself to have seen quite a lot in my years of being a football fan. I have played the game and also coached occasionally, and recently started to write about what I see. As a passionate England fan, and being of my generation, I have bought my ticket to the roller coaster ride of success and failure that is England football. From the highs of that wonderful day in 1966, to the lows of 1970 in Leon. Back to 1973 and Poland, up to the relatively thin air of 1990 in Italy and 1996 in England. Over 40 years of ups and downs, but today, in CapeTown, South Africa, I experienced the single worst performance of any England team I can remember.
Now people will argue that there have been worse, and maybe there have been, but for total abject failure of all concerned, this takes the cake. Not only did this team not play well, they capitulated. They showed every paying England customer, yes customer, that they don't care, and that they don't even want to be at this tournament. That, for me, at least, is unforgivable.
Remember that this team was predicted to be one of the top 4 teams in the tournament. Certainly not by me, and I take no solace or gratitude from the fact that I never had faith in what everyone was predicting. I had seen it all before. Those rancid performances against Egypt, Mexico, and Japan came back to haunt us all and from the casual attitude, to the promises of "we'll play better next time", I frankly wasn't buying any of it. I had seen it all before. The same smokescreen from the manager and the players with the same piss-poor questions from the media. It was deja-vu.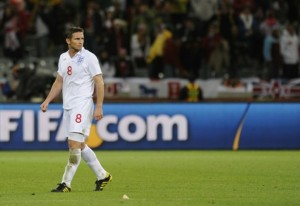 I'm not going to go into the tactics , or selection possibilities that were made today, because quite frankly, I don't think it matters anymore with 75% of this squad. A player here, a player there, it doesn't seem to change anything. I don't even believe it's the manager's fault either, although he must shoulder some of the blame here. I think this is the most frustrated and animated Fabio Capello that I've ever seen. He seems to be losing his mind out there trying to figure out what is going on.
Something is badly wrong here and it probably will take a complete clear-out to fix it all. I don't have the magic cure for this either, because there is so much at fault here, and I don't have the energy to produce a laundry list of failures. Anyhow, you all watched the game. You know what you saw out there.
I think the capper for me was the sight of Wazza Rooney, who has been awful at this tournament, yelling at the cameras after the final whistle. Let me ask you all. What gives this bum ( I am a United fan too, by the way, and a fan of his ) the right to criticize paying customers who have to sit through that garbage and then be expected to cheer the performance. Are you kiddin' me?
My solution to this circus would be to first of all, ring the changes for the Slovenia game.
Here's what I would start with : Hart, Johnson, Dawson, Upson, A Cole, A Lennon, Carrick, Gerrard, J Cole, Crouch, Defoe. By only having 3 starters from today's game out there, you send a message. If we lose, we lose. We don't deserve to advance anyway with this squad and I can't imagine what we'll be in store for from any of those teams in Group D even if we do get through.
Secondly, following this World Cup, I would drop the majority of the regulars on this team. I would keep Gerrard, A Cole, J Cole, and maybe a few others who have shown effort. I would tell the veterans that you have two choices. You can either retire from international duty or you can choose to fight for your place again, but you will only be picked sparingly when needed. Thirdly, I would start preparing for 2014 and bring up all the young players but my target is WINNING the World Cup in 2014. I would state that we don't expect to qualify for Euro 2012 but if we do, that will be a plus. That keeps the expectations at a realistic level. Keep that group together for 4 years and play every game with the same core group of 12-15 players. Build a spirit and let the fans get behind their effort and desire.
I had feared that I may have to write an article like this at some time or another criticizing England's performance but I never imagined it would be so damning.
Something has to be done – NOW. !!
Subscribe

England Football Team World Cup Blog RSS Feed

Share
blog comments powered by Disqus