The Lampard & Gerrard Problem: Chapter 4,596
October 8th, 2008 | by: Daryl |

View Comments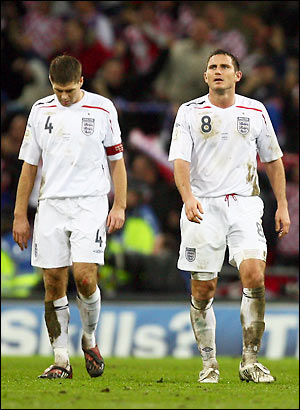 Yep, this again. Sorry folks.
Gerrard was injured for the Croatia game so we didn't have to worry about he and Lampard playing together in central midfield. But now they're both fit, both in the squad and both in form. What's a highly paid Italian to do?
We're not sure yet. But Frank Lampard at least agrees that he and Gerrard are not a good combo:
Long long quote from Super Frank after the jump…
"If we are both honest and Stevie is a very honest man, we both haven't played as well for England as we have for our clubs particularly over the last two seasons."

"I think if we had done we probably would have qualified for the Euros."

"That's the case whether we've played together or separately. We have to try and make it work if we're asked to play together and…we have to stop worrying about individual players. What we need to do now is to look at the team."

"I think it's pretty obvious when you play with Theo Walcott, Joe Cole and two strikers and you go to a place like Croatia where they can knock the ball about, if you leave Gareth Barry on his own in midfield you are going to get exposed."

"Maybe we're in a better environment for it to improve now. There is a lot more emphasis on the tactical work now. In the past we probably did just discuss it in the dressing room and say if one sees the other go, he stays back.

"In a lot of games now the midfield is overloaded and you can't just leave one player on his own. But there's no better environment to learn than with Capello and the way we are working now.

"I'd like to think it can work. We both care passionately about playing for our country and we both want to play well for our country."
I'd like to think it can work too Frank. But it doesn't. Ever. Never ever ever.
That the two men can't play together in central midfield isn't just a hypothesis, it's a cold hard fact:
The Pope is Catholic, water boils at 100 degrees celcius, Lampard & Gerrard can't play together in central midfield. Simple as that.
But here's what I see Fabio Capello doing against Kazakhstan: Walcott on the right, Lampard and Barry in the middle, Gerrard on the left.
I'm not saying it's a great idea, but here's why I think he'll do it. Frank Lampard is in good form for both Chelsea and England recently. There's no way he's getting dropped. Capello is also smart enough not to drop Barry and pair Gerrard with Lampard. At least I hope he is.
He won't push Gerrard to the right because that spot belongs to Theo Walcott now (sorry Goldenballs, your time is up). But out on the left we have Joe Cole injured and Stewart Downing in non-too-spectacular form for Boro.
It's not ideal, and it obviously doesn't suit Gerrard's game. But given the options (ie Stewart Downing) playing Gerrard on the left may be the only move that makes sense.
Subscribe

England Football Team World Cup Blog RSS Feed

Share
blog comments powered by Disqus