The First Creeping Doubts About Fabio Capello
June 14th, 2010 | by: Rob |

View Comments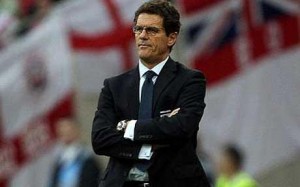 So, no time for standing still, but it is worth reflecting a little on one of the more striking elements of England's 1-1 draw with the USA – the fact that the previously invincible looking Fabio Capello looks a bit more fallable than he previously did.
There were creeping doubts in the friendlies to be fair, in which we were unconvincing, but I think most of assumed that when it came to crunch, we'd find our qualifier form all over again.
But Capello's gambles didn't come off. Ledley King limped off at half time, and will miss at least the next game, James Milner was dragged off after 30 minutes, Rob Green made a mistake you might have heard about, and Emile Heskey and Shaun Wright-Phillips blasted great chances at the keeper. All of these come down to Fabio to some degree.

I expressed doubt that as good as he is, King should go to the World Cup, and Fabio's taking him hasn't come off (yet, I should add, I suppose). If Milner wasn't fit, he should not have started, and when he came off, it really really should have been Joe Cole on the left wing. Playing SWP out there is just strange. And it didn't pay off.
Capello famously leaves his team announcements to the last minute, not even telling his team untill right before the match. Can't help but think the uncertainty didn't really help Rob Green in the long run. I'm not making excuses for a silly error, but you want your keeper to be confident, not worried.
Perhaps it is good for us to see that Capello is human and makes mistakes, he had seemed infallible before. But it is an interesting thing to note.
But In Fabio, I trust. A draw against USA is not a bad result, I hasten to state once again. Judging by how good the Germans looked yesterday though, we really do want to win this group, which means outscoring the USA against Algeria and then Slovenia.
But looking at the other teams who have played so far, Germany aside, no-one has looked any more convincing than us. Let's keep the faith, I still have a lot of optimism for England in these finals.
And Hey, we drew our first match in 1966. And Italy drew their first match in 1982. And their second. So who knows.
Subscribe

England Football Team World Cup Blog RSS Feed

Share
blog comments powered by Disqus