The England World Cup Blog Interviewed Martin Keown: Here's What Happened
June 8th, 2010 | by: Ethan Dean-Richards |

View Comments
Opportunities to meet former England internationals don't crop up every day, but when they do you take them – however short the notice. Last Wednesday evening brought a flurry of emails and last Thursday morning brought an interview with Martin Keown (and Andy Townsend) as a part of a Lucozade sponsored event – I've come a long way since starting out at The West Brom Blog don't you know!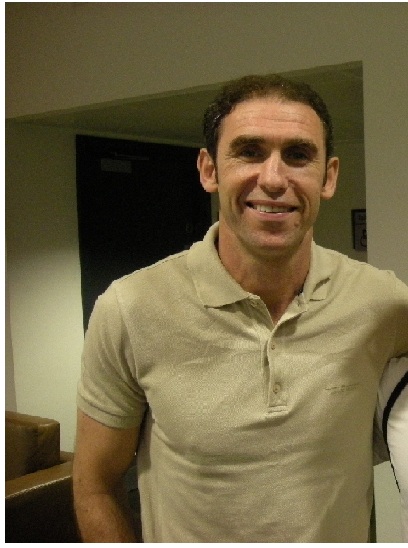 A clever guy – really interesting to talk to.
As you would expect from a man who partnered Tony Adams at the heart of one of the most successful back-fours in recent club-football history, Keown is intense from the outset. He looks me straight in the eye and gives me a considered answer to everything I ask him.
"Leave question mark over the goal keeper. Johnson, Terry, Ferdinand and Cole accross the back. Lennon, Lampard, Gerrard, Milner, Cole as a five in midfield. And Rooney up front." He suggests as his England lineup (obviously before Rio Ferdinand was ruled out of the World Cup).
He's absolutely clear that, with Gareth Barry struggling to be fit, Steven Gerrard is the man to hold in midfield. Grabbing a notepad he plots out his midfield anchor man's ability to "cover the ground, make the tackles and make those forty yard passes". I ask him if Gerrard really has that level of discipline and his answer is short and sharp: "Of course he can – he's a professional."
He expands on his midfield five: "I think the midfield is all about pressure on the ball. The U.S.A's defenders aren't very good – we need to put pressure on them. [Again drawing out a diagram] Football today is all about getting the ball in the hole between defence and midfield. With two in midfield that's more difficult – there's less time, especially if the other team's playing three in there. With three in there, there's more time and space to hold the ball and more chances to get men breaking from midfield into that hole."
The former Arsenal man explains that keeping that (4-5-1) formation is more important to him than keeping the same starting eleven, especially if Gareth Barry gets fit: "I'd say Gareth Barry's earned his place on the team. Milner doesn't have that experience and, as a centre back, you're certainly aware of the player who you're playing the ball out to."
He describes football as becoming increasingly about possession – pointing out that the stats show more and more short passes in the Premier League – and asserts that the fallibility of centre backs is not being exposed now because they are getting worse. I challenge him to name a genuinely outstanding centre back, but he thinks about it and instead comes out with: "more possession in midfield is allowing centre forwards and attacking midfelders to get one and one with the centre backs more often and that makes them look worse."
Then there's time to talk about Fabregas – he's accepted that he will leave Arsenal for Barcelona and respects the decision based on the idea that Cesc may have indicated a long time ago that he wished to leave - and the interview comes to an end. Pictures are taken and I wish him luck with his involvement in the BBC's World Cup coverage.
Does anyone agree about Gerrard as a holding midfielder? Martin Keown almost had me convinced, but I'm sticking with hoping that Gareth Barry is ready for the big games. As for putting three men in centre midfield, I can certainly get on board with that: it certainly helps hold possession and that has always been England's biggest weakness.
Subscribe

England Football Team World Cup Blog RSS Feed

Share
blog comments powered by Disqus