Terry faces the music without Gerrard
June 20th, 2010 | by: SoccerLimey |

View Comments
It is difficult to find anything positive to talk about when discussing the current state of the England camp. Following their disastrous 0-0 draw against Algeria on Friday, media and fans alike, me included, have been berating the players and manager on what may prove to be, the defining moment in another failed World Cup campaign, I did however, today, see a small indication of a positive development peek out of the fog.
Back in February, England captain John Terry was stripped of his role following allegations of infidelity with the girlfriend of potential England team mate, Wayne Bridge. Fabio Capello ruthlessly replaced Terry with Rio Ferdinand as leader of his team from that point forth. With Ferdinand injuring his knee before the tournament began, Steven Gerrard became the new team captain with Frank Lampard stepping up to vice-captain.


Today, at the first scheduled press conference since the Algerian debacle, up steps Terry, not Gerrard, to face the English media. He handled the questions calmly, and wasn't rattled even as some of the questions were designed to trap him into saying something controversial. He gave an account of how the players feel, along with a few suggestions for Capello, some more tongue in cheek than others.
For me, Terry's presence indicated a couple of things. Firstly, that he was quick to shoulder the responsibility on behalf of the squad in the public eye despite his ridiculing in February which takes courage, and the fact that he's not just there to lose. Secondly, that he is still seen as the team leader despite Gerrard's position as captain.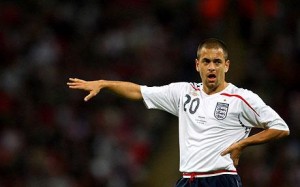 I think this will pay dividends on Wednesday as it seems to be an indication of a rift between players and manager in the England camp, and maybe this squad needs to develop an "us against them" attitude to reignite this campaign. There was a definite suggestion that Joe Cole should be added to the starting line-up which I wholeheartedly agree with, and the confidence with which Terry handled the questions is definite food for thought that possibly Capello removed him prematurely and certainly against the wishes of the players.
Kudos to the Chelsea defender for having the strength of character to do what he did today. I can only hope that Algeria was the bottom of the barrel and we can now move on to beat Slovenia next Wednesday and get to the knockout phase of the tournament.
Subscribe

England Football Team World Cup Blog RSS Feed

Share
blog comments powered by Disqus