Should Walcott or Beckham Start vs Croatia?
September 7th, 2008 | by: Daryl |

View Comments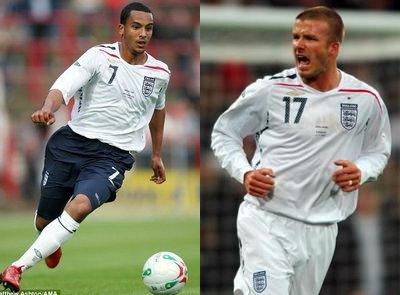 Bit of a debate in The Sun today about whether Walcott or Beckham should start on England's right wing vs Croatia. Theo Walcott had his moments on the right wing vs Andorra. But anyone that quick is always going to have a few moments, especially against Andorra. And though he looked dangerous, he wasn't necessarily effective.
Losing isn't really an option for Capello, unless he wants to be labeled as "Steve McClaren with a funny accent." (actually, there's already a Steve McClaren with a funny accent isn't there.)
So maybe there's an argument for replacing the inexperienced Walcott with the ultra-experienced Beckham? He's a veteran of several qualifying campaigns after all, and wasn't allowed to play the last time England visited Zagreb. And we all know how that worked out.

But it's hard to escape the fact that Beckham is now a limited player. He can still serve up a mean set piece, but no longer seems threatening enough to warrant a place in the team for that reason alone.
So basically it's the pacy but ineffective Walcott vs the slow but not quite as effective as he once was Beckham. Who should start at right mid for England? I vote for Joe Cole.
Subscribe

England Football Team World Cup Blog RSS Feed

Share
blog comments powered by Disqus