Rooney's injury to shorten career ?
April 12th, 2010 | by: SoccerLimey |

View Comments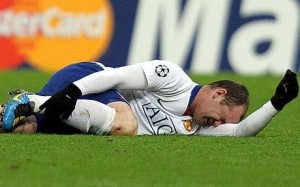 It appears that Wayne Rooney's ankle injury has been at the top of everyone's mind this past two weeks, especially with his surprise inclusion in Man Utd's starting eleven for the Champions League quarter final against Bayern Munich at Old Trafford last Wednesday. Following repeated assurances from manager Sir Alex Ferguson that the England striker wouldn't play, imagine everyone's surprise when he ran out on the field to start the game.
Frankly he never looked fit, and after a couple of healthy challenges from Bayern's central defenders, our worst fears were confirmed when he failed to finish out the match. One wonders when he would have been subbed out if Raphael had not been red carded in the encounter as Rooney is his own worst enemy when it comes to taking care of his body. His 110% commitment to every tackle and every ball played his way means that taking things easy Berbatov-style just isn't an option.
Marco Van Basten was a striker who's career was cut short by recurring ankle injuries and comments out of the Netherlands this last few days suggest that he was concerned to see Rooney playing through this injury last week. He has bitter memories of consistently playing through pain after damaging ankle ligaments during his playing days with Ajax. Seeing Rooney suffering those same painful reminders prompted the Dutchman to issue a warning to both the player and his club, Manchester United. ""I've been where Rooney was. I know what it is like. If your ankle is damaged and you get another heavy tackle on it the pain is always with you." Van Basten is widely regarded as one of the Netherland's best ever strikers and his 9th spot in the top 100 players of the 20th century is no accident.


It would be a travesty to see another player of immense talent being forced to hang up his boots at an early age. Rooney and his club should heed the advice of players who have suffered shortened careers and we must hope that in this case, time will heal the man who carries the hopes of England's World Cup dreams squarely on his shoulders.
Subscribe

England Football Team World Cup Blog RSS Feed

Share
blog comments powered by Disqus