Rio Ferdinand limps to hospital with knee problem
June 4th, 2010 | by: Rob |

View Comments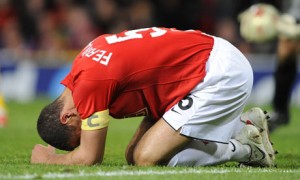 Here we go. The rollercoaster has well and truly started – England have their first injury problem of the tournament. Rio Ferdinand picked up a knee injury in the final minutes of training and has had to head to hospital to see how serious it is. Knee problems are really hard to judge, so if its nothing serious he could be back to running in three days, but if it is something big, he could be out for tournament. Spurs Michael Dawson has been put on standby, just in case.
My co-blogger Ethan claims "the press is overreacting (again!) and he'll be okay" – lets all cross our fingers. We shouldn't jump to conclusions just yet untill we know the full extent, but it has made me feel rather pensive.
David James also sat out training (with a knee problem) but Fabio reckons Jameo will be fine. Lets hope the same is true of Rio.

I know Rio has got a bit of stick in some quarters – he had an injury struck season for Man United that made him look far more shakey than we're used to – but lets be honest, we really do not want to see our Captain heading home this early. I'm a big fan of Ferdinand's, and if you think back to previous tournaments – 2002, 2004, 2006 – he was outstanding.
Crossing fingers for him, and Gareth Barry untill we know more.
Subscribe

England Football Team World Cup Blog RSS Feed

Share
blog comments powered by Disqus