Listless England edge out Japan
May 30th, 2010 | by: SoccerLimey |

View Comments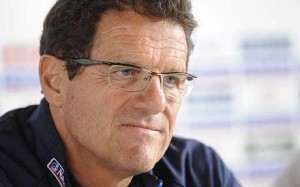 England's warm up preparations stuttered to a close with a fortuitous 2-1 win against a feisty Japan team in Graz, Austria today. Fabio Capello has his work cut out to try to rekindle England's qualifying form as their opponents scored all three goals. Japan took the lead in the 7th minute as a training ground move from a corner kick was crisply fired into David James's left hand corner by Marcus Tanaka. Despite a missed penalty by Frank Lampard, England equalized on 71 mins as Tanaka scored on his own team with a poor header and a second own goal from Nakazawa on 83 mins gave England the undeserved win.
Fabio Capello started with Theo Walcott on the right and Aaron Lennon out left with Wayne Rooney and Darren Bent providing the strikeforce up front. Tom Huddlestone settled into the middle as England went with the standard 4-4-2. Japan started brightly and were much quicker to the ball as England struggled to keep possession and it was no surprise that the Asian side took the lead after only 7 minutes. A corner from Yasuhito Endo was fired into the bottom left corner by Marcus Tanaka off the toes of Glen Johnson and through the grasp of David James and Ashley Cole who was parked on the post.
Theo Walcott was having a torrid time on England's right flank as Japanese defenders continually closed him down as soon as he got the ball, and with England playing their first game with the "Jubilani" , Adidas's specially designed tournament ball, it was clear that they were not comfortable in possession. Aaron Lennon should have scored on 18 mins as Rooney drooped deep to collect the ball and released Lennon on the left but the Tottenham winger could only fire directly at Kawashima.
England's defense looked shaky which was evident on 19 mins as a wild swing from Rio Ferdinand almost let in Okazaki but he wasted the chance high and wide. There was a distinct lack of intensity from England's midfield as Japan showed much more desire to win the ball and a 23 min dipping free-kick from Lampard was fumbled away by Kawashima but chances were seemingly harder to come by. Lennon struggled to get into the action on the left and Walcott appeared totally lethargic. As with Mexico, England toiled heavily to contend with Japan's quick, crisp passing game as Bent and Huddlestone became almost anonymous. Even the most die-hard England fan must have wondered where England's goals would come from with such a lackluster display.
Japan were content to sit on their lead and hit England on the break and looked very comfortable doing so, and with Lampard looking isolated in midfield, England could not get going. Fabio Capello's strained shouts from the sidelines became more animated as the half wore on and it was clear the Italian was furious with his team. Rooney was dropping deeper and deeper into midfield just to get the ball, and after 38 mins Tom Huddlestone finally announced his presence with a low shot that Rooney tried to deflect in.
Lennon, when given the ball, caused Japan problems on the left and England's best moves came down that side but his touches were few and far between. With this only being England's 3rd game together in 2010, it was clear that there was little cohesion in midfield compounded by very little movement off the ball. Thankfully, the first half ended to allow Capello to regroup with Japan very comfortable with a 1-0 lead. It was clear that England's dressing room was not the place to be if you wore a red shirt and your first name was Darren. Bent looked totally out of his depth and won't be on the plane next week.
Fabio Capello brought on Joe Hart, Steven Gerrard, Jamie Carragher, Shawn Wright-Phillips, and Joe Cole to start the second half. Off went David James, Tom Huddlestone, Glen Johnson, Theo Walcott, and Darren Bent with Aaron Lennon switching to the right. Five minutes after the restart, Japan caused further concern amongst the England faithful as midfielder Honda fired in a 30-yard drive which was tipped over by Joe Hart. Increased England activity in the second half looked promising, and after 53 mins, they had a glorious chance to tie up the game. Two winning challenges from Shawn Wright-Phillips led to a free kick outside the Japan penalty area and from the ensuing shot, Honda positioned in the wall, mysteriously punched the ball away giving England a penalty. Lampard stepped up and fired a low shot to his left forcing a great save from 3rd choice keeper Kawashima to add to the Three Lions misery.
The lack of a big striker was becoming increasingly costly although Wright-Phillips was steadily playing himself onto the plane in place of Walcott. Capello's sideline frustrations boiled over as he and Japanese coach Takedi Okada remonstrated with each other as Lampard felled Honda with an elbow. A nice move from Lennon on 62 mins gave Rooney some space to move but he was quickly closed down by the Japanese defense. Japan replaced Okazaki and Matsui with Okubu and Morimoto to give Japan some added energy as England were slowly gaining space on the flanks. Ferdinand and Terry were again caught napping on 66 mins as Morimoto found himself alone 10 yards out and only a smart save from Joe Hart kept the ball out. Rooney's hard work nearly paid off after 68 mins when he fashioned a curling shot just parried away by Kawashima at the last minute and England gratefully accepted a gift equalizer on 71 mins as a curling low cross from Joe Cole on the right was turned into his own net by Tanaka. It was hardly what Japan deserved but England now were starting to control a tiring Japan midfield.
Emile Heskey came on for Aaron Lennon on 74 mins to allow Capello to revert back to his 4-4-2 with the big striker up front. A neat link up between Gerrard and Rooney outside the Japan box nearly led to reward but things got too tight and the move fizzled out. England took the lead on 83 mins as again a low curling cross, this time from the left from Ashley Cole, wasn't dealt with by Japan and Nakazawa clipped it into the left hand corner. England were now ahead and looked decidedly more relaxed and only a point blank miss from Heskey with two minutes to go prevented them from increasing their lead.
Japan's only real reply came in the form of a curling header from Abe which bounced off the top of Hart's crossbar but a relieved England saw out the clock without too much more effort.
In conclusion, a poor effort all around against a team that should, at this stage of preparations, be pushed aside comfortably. It is obvious that we cannot play effectively without a big striker, and the lack of a ball winner in midfield allowed Japan to keep possession for long periods without being challenged. The two warm up games only provided Capello with more questions than answers and the parties who seem to be best served at the end of these games will be England's Group opponents in South Africa who must now believe they can beat this underachieving England team.
Thanks to Ethan and Rob for walking us all through the chaotic 90 minutes on LiveBlog today.
I guess we wait now for Tuesday when Capello announces his 23 man squad.
Subscribe

England Football Team World Cup Blog RSS Feed

Share
blog comments powered by Disqus