Judgement Day for Capello, Sort Of
September 10th, 2008 | by: Daryl |

View Comments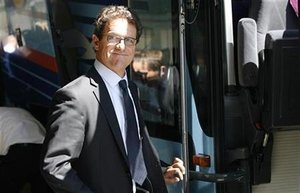 The showing against Andorra wasn't too pretty, but it was still a victory. And in a bizarre way it was good to see Fabio Capello getting nice and mad on the touchline (somehow more reassuring Sven and Steve Mac's "stay perfectly still and everyone will think everyone is OK" approach.) In The Independent yesterady, James Lawton argued that Capello's anger at our failure to really stuff Andorra good and proper bodes well for the future, and I definitely agree.
But today in Zagreb is the big one. It's a chance for the England national team to stop being an international laughing stock and to win back some respect. It's a chance to consign last season's two defeats to Croatia to histroy and announce to the world "See! We're still actually quite good!"
It's also the day we find out exactly how Capello approaches a tough game that we're not expected to win.

Then there's no doubting England are second favourites for this game. Actually, if you look at the odds then we're third favourites, with a draw being slightly shorter odds than an England victory.
It's widely expected that Fabio will go 4-5-1, but I'm starting to have my doubts. He's talked all week about England's need for confidence and has also repeated many times over that Wayne Rooney needs to be playing in his best position, as a support striker.
So here's my logic: Capello's not going to play Rooney as a lone striker and he's not going to drop Rooney either. And he's not going to have England going out to defend, because that's now ay to play with confidence (plus we're not historically great at closing up shop.)
So my guess is that we'll actually see a 4-4-1-1 (or basically a 4-4-2 with Rooney behind another striker).
And I wouldn't be too surprised if that other striker is Emile Heskey, as he's the only target man available. So after flip-flopping back and forth for the last few days, here's what (I think) I'd like to see this evening:
– — – — – James — – — – –
Johnson – Terry – Ferdinand – A Cole
Walcott – Lampard – Barry – J Cole
– — – — Rooney– — – — – —
– — – — – –Heskey– — – –
That's balls out attacking down both flanks and a big man to hold the ball up front. But quite honestly I'd be fine with either Beckham or Brown making an appearance at right back. I know public opinion has turned against Beckham and he didn't look too hot against the Czech Republic, but there are still worse players to have out there for you.
And by the way, big respect to the guy for not kicking up a fuss about only playing 10 minutes vs Andorra. Becks is one of the few players who I 100% believe when they say they're honoured to wear the shirt and just want to be involved in any way possible.
I'll be LiveBlogging the game later today, so check back then to see just how wrong my predicted XI actually was.
Subscribe

England Football Team World Cup Blog RSS Feed

Share
blog comments powered by Disqus