Getting Pumped: Fabio vs. Italy
February 10th, 2010 | by: Matilda |

View Comments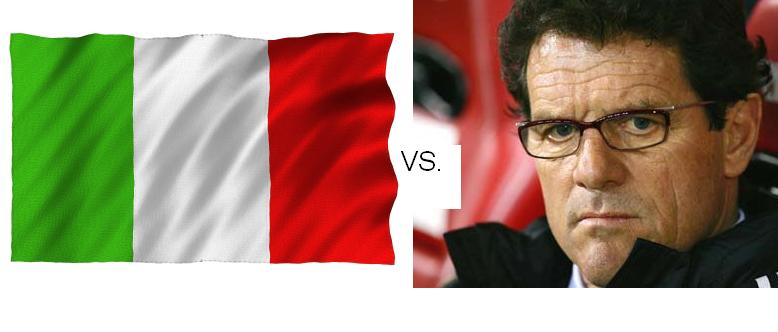 The World Cup is an event that breeds patriotism, club rivalries no longer matter, it's all about those national colors. I've always wondered how managers from rival nations manage to coach against there homeland, I couldn't imagine facing the Three Lions and trying to win. Obviously Marcello Lippi, Italy's manager feels the same way and has decided to call Capello's attention to this very fact, saying:
"I'd like a beautiful final between Italy and England. I'd like to see how Fabio Capello would react when the Italian national anthem is played. I'd really like that."
Well Capello traveled back to Italy today, after having been in England less than a week to sort out the whole John Terry fiasco, and gave a little speech at Parma University in which he addressed Lippi's comments. He said:
"I would sign up straight away for an Italy-England final."
He then went on to criticize pretty much every aspect of Italian football, from the governing bodies down to the fans (though he did not criticize Italian managers). You tell 'em Fabio! So that's it everybody, dream made: I want an Italy-England final. Mainly because I think England could beat Italy, but that's a whole other issue.
Subscribe

England Football Team World Cup Blog RSS Feed

Share
blog comments powered by Disqus