Fabio: "Not Reaching the final would be failure"
May 13th, 2010 | by: Rob |

View Comments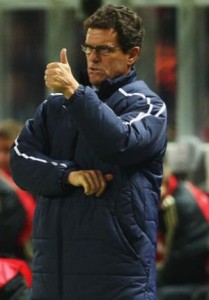 Crikey, I like a confident man. Fabio Capello spoke out today about the difference between the England Squad he inherited and the England Squad he is taking to South Africa – and came to the conclusion that if England aren't playing in the last game of the tournament, then it would be a failure.
He also mentioned that he hoped clubs put on hold any potential transfers involving players in his 30, as it would prove a distraction.
Here is the interview for Italian newspaper La Stampa. Oh what's that? You don't speak Italian, well below is the jist, via The Guardian.

"When I first arrived here, I saw that the players were tired, afraid, without any real sense of belonging, But by changing their psychology, by talking a lot, imposing rules and putting pride back into the shirt, we have rebuilt the team. It has been amazing. I shook the bolts, made us serious and the group has become concrete"
It is a bit of an insight into the difference between former managers set up with the England Team and his own. Hopefully he's right.
"There are many talented sides in the tournament," he said. "Spain, Argentina, but especially Brazil…"
No-one's going to disagree to heartily with him. But its interesting he didn't mention Italy, no? Considering he was talking to an Italian journalist.
"But it is not added pressure for me that [the country] expects to win the World Cup. That is part of the game and that is why I came here. For me, not reaching the final would be failure."
So there you go. Talk about setting out your stall. The FA have said that they expect a Semi-Final but Fabio has gone one further. I'm not sure what emotion it fills me with. Partly excitement certainly, but partly nervousness. I'm English – I'm not used to this level of expectation.
Maybe that's been the problem? But if Fabio can convince an undoubtedly talented bunch they can do it, who am I to argue?
Subscribe

England Football Team World Cup Blog RSS Feed

Share
blog comments powered by Disqus