England's World Cup 2010 Preparations: Training in Austria, Friendlies vs Mexico and Japan
March 4th, 2010 | by: Daryl |

View Comments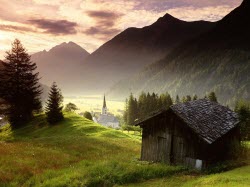 The FA has very helpfully released the timeline of England's World Cup preparations.
Capello will name what's expected to be a 28 man provisional squad on May 16th, for a training camp in Irdning, Austria (pictured, sort of, or at least that's how I imagine it will look). Why Austria? I'm not 100% sure, but my guess would be some sort of altitude acclimatization.
There will also be two friendly games: England vs Mexico at Wembley, possibly May 23rd, plus: England vs Japan in Graz, Austria on May 30th. The actual England 23 man World Cup squad will then be named on June 1st before the squad travels to South Africa on June 2nd.
Here's the timeline:
Sunday 9 May – Final day of the Premier League

Saturday 15 May – The FA Cup Final

Sunday 16 May – Austria squad announcement

Monday 17 May – Players meet and travel to Austria

Saturday 22 May – Champions League Final

Date TBC – England v Mexico, at Wembley Stadium

Date TBC – Squad will travel back to Austrian training camp

Sunday 30 May – Japan v England, 2.15pm, UPC-Arena in Graz. Following this match, squad returns to England

Tuesday 1 June – World Cup squad announcement

Wednesday 2 June – England players and staff meet and travel from London to South Africa

Thursday 3 June – England team arrive in South Africa
Subscribe

England Football Team World Cup Blog RSS Feed

Share
blog comments powered by Disqus