England Now Fourth Favourites to Win World Cup 2010
October 14th, 2008 | by: Daryl |

Comments Off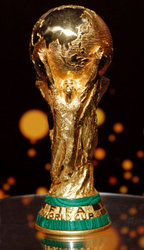 No, seriously. I just posted the latest odds on World Cup 2010 winner from Paddy Power over Bet Offside and England are fourth favourites (behind Brazil, Argentina and Spain) to win World Cup 2010 at 8-1.
What does this tell us? Basically that people are getting carried away again. Seems whenever England put a half decent run together (and really all we've done in the last three games is impress in one game vs Croatia, and put in borderline respectable performances against smaller fry) everyone gets all excited.

I really think we have a chance of doing well under Fabio Capello at World Cup 2010, but I think for that to happen we all need to do something we've never managed yet. And that's to keep our reactions and expectations in line with reality.
If we win again tomorrow against Belarus then that's a great result (even a draw would be decent) but England is still mostly the same team that failed to qualify for Euro 2008. We're not fourth favourites for the World Cup. And if we it lose a game – say away to Ukraine – then we're not the worst team in the world.
If everyone (players, press, fans, blogs) can keep a steady head and concentrate on us just getting to South Africa, then that will be a nice start. We shouldn't start thinking about winning the damn thing at least until we qualify.
Subscribe

England Football Team World Cup Blog RSS Feed

Share
Comments are closed