England can, technically, still win the World Cup
June 22nd, 2010 | by: Ethan Dean-Richards |

View Comments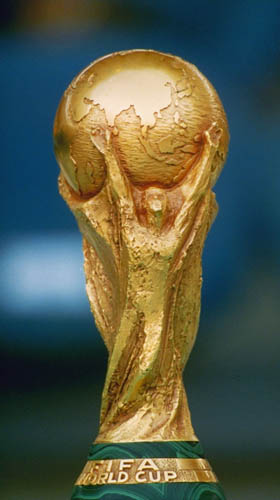 Granted, things feel and are bad, but it was ever thus, so why dwell on it?
Pessimism amongst England fans is entirely appropriate in the wake of one massively disappointing performance and two massively disappointing results. But initially cathartic as ubiquitous pessimism is, eventually, dwelling on defeat becomes not only dull, but unhealthy. This England team, technically, still has as equal a chance of winning the World Cup as any other team out there - the glorious irrelevance of group stages once the knockouts begin could yet be England's saviour as it was in 1990 and 1986.
Fabio Capello may take solace from the fact that his team are are not alone in requiring a sharp turn-around in fortunes: Germany, cheated by a ludicrous sending off, must beat Ghana to be sure of qualification and Spain, having lost to Switzerland, still need to beat Chile in order to progress. 
Unlike those two teams of course, England's merry men have built their own mess. They will battle poor form as well as Slovenia on Wednesday: Wayne Rooney has too often gone missing since his injury against Bayern Munich whilst playing for Manchester United, Steven Gerrard shone against the USA but faded against Algeria and the likes of Frank Lampard and Aaron Lennon: players of whom inspirational performances are expected rather than hoped for, have not produced.
Why then, should we suppose that they can beat a Slovenian side in possession of the only victory from Group C so far?
 It is worth remembering that the transformation from poor to good does not always require a substantial change. How tempting it is to speculate over how England's performances may have been affected had Rob Green not fumbled at a such crucial point, just before half time, against the USA - buoyed by victory against the Americans, Algeria may not have proved so tough a test.
A reversal of that individual error in England's favour – a set piece or an own goal, like that which set Argentina on their way against South Korea – could set them on their way in this tournament. Luck does not guarantee World Cup wins, but it lurks constantly in the background, waiting to afflict or assist the teams at its mercy.
Slovenia too could come to England's rescue. Their excellent performances against Algeria and the USA belie a lack of big-game experience, but England's oldest ever squad will at least look to expose the mismatch. In a more tangible sense, the side which knocked out Russia in order to reach South Africa remain vulnerable to counter attacks and crosses. A win is a must, but it's also a probably.   
Beyond Slovenia, England's path does not look overly daunting – Serbia and Uruguay could lie in wait on the way to a possible semi-final match-up with Spain or Brazil (who look set to meet each other in the Round of 16). The process of disregarding the group stages involves beating Slovenia on Wednesday – a victory no-one will take for granted – but if Capello can manufacture that, anything is possible.
Subscribe

England Football Team World Cup Blog RSS Feed

Share
blog comments powered by Disqus