England are Top Seeds. Just.
December 2nd, 2009 | by: Rob |

View Comments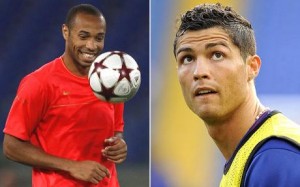 So FIFA officially unveiled its Seeding system for Friday's exciting/terrifying World Cup Draw, and England will be top seeds. This means we can't be drawn against the other seeds, Spain, Brazil, Holland, Italy, Argentina Germany or um, South Africa.
Apparently it was only just – if FIFA had taken the Playoffs into account, France would have jumped us. But then FIFA realised that'd be a touch unfair, and did the right thing.
I know some people are very confident, and have a kind of Bring Them All On attitude, and I agree to some degree. I mean if we are going to win the World Cup, we are going to have to beat all the best teams in order to do it. But, you know. I'm still irrationally terrified. That's how I roll. Full Seeding and stuff below.

Anyway, France and Portugal, as sort of expected, miss out on the seeding, which means we could get them in the group. Though I suspect one of them will be drawn against South Africa and have an easy group. Someone will, afterall.
Pot Two is
Japan, South Korea, North Korea, Australia, New Zealand, the United States, Mexico and Honduras
So we will be facing one of those teams next June. Fingers crossed for New Zealand, or North Korea, me thinks. Or Honduras, who I'm not going to pretend I know a great deal about. A USA draw would be fascinating, not least for us users of The Offside, as I suspect a great many of you (including Daryl) might have some mixed loyalties. Though you'd all come round to England in the end. We are the Fatherland, etc.
Pot Three is
Ivory Coast, Ghana, Cameroon, Nigeria, Algeria, Paraguay, Chile and Uruguay.
I'm pretty confident against most of those sides. Though I suspect that Ivory Coast could go a long way in this World Cup if they don't have an absolutely devastating draw (which they could – they could get Brazil and France, or Spain and Portugal in round one).
Pot Four is the Wildcard Pot, with the other European Teams:
France, Portugal, Slovenia, Switzerland, Greece, Serbia, Denmark and Slovakia.
I think we could beat France on a given day, but I'd like to avoid them as a) they've beaten us quite recently b) the English press would go crazy re Henry's handball. Portugal have caused us too much heartbreak in recent years that they're evolving into Germany so I'd rather not go through that again. Serbia have enough decent players that'd I'd say No Thanks to them to, if thats ok.
So there is potential for a very easy group. But potential for a nightmareish group of death as well. There will be a Group of Death, thanks to Portugal and France not being seeded. I hope we're not in it of course. But I think we can overcome either of those sides on our day.
I'm genuinely really excited about the draw. And I'm pleased that we are seeds for once – its hows how far Fabio has taken us over the two years. But we still haven't proven ourselves against the big big sides, so the World Cup is a fantastic opportunity. We couldn't have a better man in charge, and if all are fully fit and in form, we have a fantastic team to take to South Africa I think. So why am I still nervous about the draw? I have no idea really, its probably just a reflex. Maybe I'll feel better come Friday.
Subscribe

England Football Team World Cup Blog RSS Feed

Share
blog comments powered by Disqus