England Are Not the Only Team at this World Cup to Struggle to Break Opponents Down
June 16th, 2010 | by: Ethan Dean-Richards |

View Comments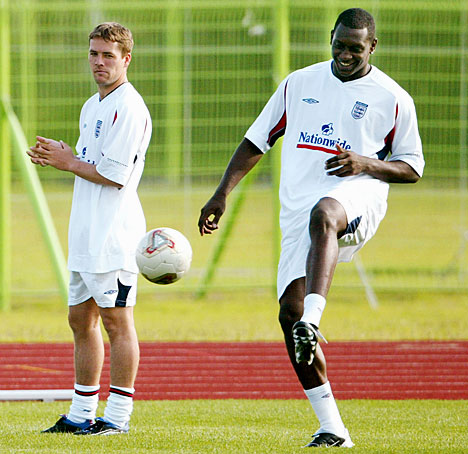 Number nines like Owen are being usurped by the likes of Heskey: Milito, Huntelaar, Gignac and Pazzini started on the bench for their teams. 
Holland, Brazil, Portugal, Cote D'Ivoire, Uruguay, France, Argentina, Italy and England have seven goals between them so far in South Africa, in spite of extended spells in possession: compelling evidence that containing tactics are outmanoeuvring attacking intent, if watching the games wasn't enough for you.
 Why then, are the goals not flowing for the footballing aristocracy? The proletariat have improved but they haven't changed their game; the likes of the USA and Paraguay, to name but two, allowed big-name opponents to come onto them last time as well and no reason is forthcoming why that should become more effective now. 
No, it is the nobility, following Italy's victory in Germany, who have begun to change. Watching that Italy side, along with Barcelona over the past couple of years, playing with strikers who do much more than score, Fabio Capello and his like have begun to twitch at the prospect of offering any player a mandate limited to the scoring of goals: pressing the opposition and supplying the midfielders is apparently the new putting it in the back of the net.
Examples of that shift in philosophy aren't difficult to find: on Monday Van Persie moved out wide for the Dutch looking to create, last Friday Nicola Anelka drifted to the left for the French and on Saturday Emile Heskey looked to supply knock-downs to midfielders, albeit from a central position, for England. Those men have replaced the archetypal number nines: Ruud Van Nistelrooy, David Trezeguet and Michael Owen for their countries.
Whilst in the past the men lacking outstanding international goalscoring records were seen as a burden, managers are beginning to see the Van Nistelrooy or the Owen, who 'only' scores goals, as the luxury item to be sacrificed in the name of prudence. With this logic as the backdrop, the initially puzzling dichotomy that is 'overall time on the ball going up and number of goals going down' becomes entirely straightforward. 
Hope remains for the rest of the tournament in the form of a compromise. A number of outstanding talents capable of both scoring and contributing more widely to the team promise to emerge. Wayne Rooney, given the chance at playing up front on his own, could create and score for England just as he has for Manchester United and Van Persie is likely to offer a more convincing effort next time out against Japan. Didier Drogba's fleeting appearance yesterday also hinted at a player who can offer the knock-downs of a Heskey and the goals of an Owen.      
Unlike the Dutch and the Ivorians though, Fabio Capello might not be willing to embrace a more liberal approach to his star striker's role. England's manager delegates only with strict, specific instruction and exceptions are not made – not even for Wayne Rooney. Pundits and fans have called all week for Rooney to play up front on his own as both creator and scorer, but Capello is unlikely to trust him with such an open brief.
The solution for England may be more similar to that of Argentina, who could bring in Champions League final goalscorer Diego Milito and France, who prolific Ligue 1 striker waiting in the wings. Capello said last night that he was considering playing Jermain Defoe over Heskey. For the 'knocking-off' of the smaller teams We could well be about to go back to the old-fashioned number nines.
Subscribe

England Football Team World Cup Blog RSS Feed

Share
blog comments powered by Disqus