Breaking: Rio Will Miss World Cup
June 4th, 2010 | by: Rob |

View Comments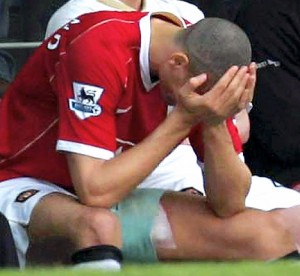 Rio Ferdinand is officially out of the World Cup. He sustained a knew injury earlier on in training, right at the end of the session, and has apaprently done knee ligement damange, that will see him out of the tournament. Michael Dawson will almost certainly be called up to replace him, while Steven Gerrard will be promoted to Captain.
This is bad news. As I said in my last post, I know some have been critical of Rio lately, and he has had injury hit seasons, but our defence is our big worry going into the tournament and an experienced player limping off is really not good.
We have to look forwards though. Ledley King will presumably replace Rio in the match against the USA, but can he form a bond with JT and whoever is in goal? Can he play more than a game a week? If he can't is it to be Upson or replaces him in the centre of defence, so that we have a constantly rotating back line? To me that doesn't sound healthy.

Hopefully this is our last injury problem going into the tournament. We've already lost Beckham, whose experience would have proved valuable (though he is with the team to try and inspire them a bit) and losing Rio is a blow in terms of experience. Can Steven Gerrard fill the role of captain? At club level he has no problem, but for his country…well hopefully he can step up.
I am trying to remain positive – but no doubt having a big injury blow so early in preparations, does mean its going to be a worrying week before our curtain raiser against the United States. Perhaps it is better that it has come now rather than later, and a new defensive line can bond together. Fingers crossed.
Subscribe

England Football Team World Cup Blog RSS Feed

Share
blog comments powered by Disqus