Andy Carroll for England? Not Yet.
March 29th, 2010 | by: Daryl |

View Comments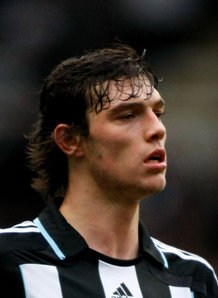 Weird week for young Andy Carroll. The big 21 year old Newcastle striker allegedly broke teammate Steven Taylor's jaw just over a week ago (something Taylor is understandably unhappy about) yet somehow this Sunday he's being talked about as a potential England player.
OK, it was only in the News of the World, but it's still technically news, but the Sunday red-top is still technically a newspaper. Technically.
Obviously it seems unlikely that Carroll will be going to World Cup 2010, mostly because a) he's playing in the Championship, and b) there are enough dodgy characters in the England dressing room already. Yet Capello and Pearce have been impressed with the big fella's form for Newcaste and for the England Under-21s, so we could be seeing more of him in an England shirt in future. Here's a YouTube vid of the man in action:
If we put the potential character flaws to one side, Carroll might be the sort of big target man England need. Obviously Emile Heskey is doing the job right now, but he's not exactly a popular choice, and he's already 32 years old. I could potentially see Wayne Rooney playing behind Andy Carroll at some point in the next couple of years.
But it's worth remembering that he's only in the Championship right now. If Championship form was a good indicator of international potential, then Sylvan Ebanks-Blake (Championship top scorer in 07/08 and 08/09) would be going to the World Cup rather than sitting on the Wolves bench with zero Premier League goals from open play this season. Just saying.
Subscribe

England Football Team World Cup Blog RSS Feed

Share
blog comments powered by Disqus