Where Does Joe Cole's Future Lie?
February 19th, 2010 | by: Rob |

View Comments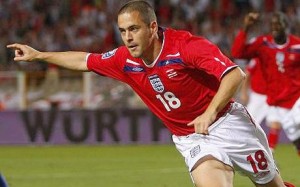 Its funny. Four years ago, heading into Germany for the 2006 World Cup, we were convinced Lampard and Gerrard were the two best midfielders in the world (they'd come second and third at the 2005 Ballon d'or). They both misfired at the World Cup, spawning what we now think of historically as the Lampard/Gerrard Problem. The one midfielder who really did turn it on in Germany was Joe Cole.
Its funny then, that the sacrificial lamb in the England Midfield debate would appear to be Joe Cole – as Gerrard is currently playing left and Lampard through the centre. As great as it is to see Lampard and Gerrard play (relatively well) together, it is a great dissapointment to see Cole sidelined.
Of course, he has been injured of late, and is only just coming back to fitness. He hasn't been getting alot of game time at Chelsea, which with his contract running out has begged the question as to where his future lies, for club and for country.

Joe Cole is undoubtedly one of my favourite players to watch. I don't have any particular affinity for Chelsea, but I'd pay to see them if Cole was on the pitch. He's quite simply what I like to see, a creative, skillful player who loves to take people on.
While the Chelsea management have claimed that the reason that he hasn't played much has just been match fitness, I'm struggling to believe them – he's not going to get match fitness back by playing five minutes at the end of games.
With a player of his undoubted talent, I'd imagine most Premier League clubs would be interested in him if he left Chelsea. Certainly his skillfullness would fit in at Arsenal, and he'd provide them with experience, would add an extra depth to Man United's midfield, and Liverpool have needed a winger for ages. He's a big enough name for Man City too. And that's not factoring in if he went abroad.
But as for the present, he really needs to get back into the Chelsea side and into form. Fabio isn't big on picking players purely on reputation as we know, and as earlier said, he appeared to be the player who would be sacrificed to make the Gerrard/Lampard thing work anyway.
But even so, he'd be an amazing asset to the squad in South Africa. He can play anywhere across the midfield, so if we do suffer any injuries just before or during the tournament (and let us be honest, we usually do) he could cover from right to left.
I also feel like he could do a job if disaster struck and Wayne Rooney got injured (I, like you, pray he doesn't obviously). In that just-behind-the-big-target-man kind of role, i could see him excelling. Obviously I would hope it wouldn't come to that, but its nice to have a back up.
So I think its pretty important that Cole gets game-time and a bit of form back. Because we might need something like this in SA:
Subscribe

England Football Team World Cup Blog RSS Feed

Share
blog comments powered by Disqus