What If…Gordon Banks had stuck to Captain Birdseye's finest?
March 18th, 2009 | by: Rob |

View Comments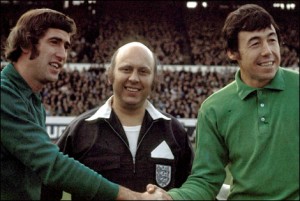 Poor Peter Bonetti. Ask my dad, he was a quality goalkeeper. He was known for his safe hands and nicknamed "The Cat" because of how springily he could get around his goal. He was renowned for his lengthy throws.
However, the reason he's gone down in history is because he stepped into Gordon Banks shoes at the 1970 World Cup after the latter got food poisoning. The Chelsea keeper then had a game to forget, and England went crashing out of the World Cup. Of course, we're still waiting for the chance to use the phrase "defending champions" again.
If anything, England went into the 1970 World Cup with a better team than they had won the World Cup with four years earlier. The England squad can be found on FIFA's website, here. We particuarly look strong at the back, Banks one of the best ever keepers was our number one, with the well regarded Bonetti and European Cup winner Stepney his back up. That kind of depth is actually apparent all the way through the squad – Norman Hunter, Nobby Stiles, Jack Charlton, Emlyn Hughes, Peter Osgood and Jeff Astle were all quality players sat on England's bench.
So we had a right to be confident. We opened our campaign with an efficent, though unspectacular win against Romania, thanks to a Geoff Hurst goal. We then played a very famous game against Brazil. One of the best sides ever assembled, England matched them all over the pitch, with Bobby Moore having the game of his life, and we might have salvaged a draw had Jeff Astle hit the net. In fact, Pelé told Bobby Moore after the match he would see him again in the final.
Had we got a draw with Brazil, it would have been very different. But that's a what if for another day. A penalty against the Czech's meant that we made it through the group despite the loss against Brazil, in second place.
History meanwhile, has got that German side all wrong when you go back and look at the facts. We're often told that the Germans are always a solid, efficent kind of side, their best player was Franz Beckenbauer, a defender. However, this was actually a free flowing, free scoring German side – who looked troubled at the back. The German's had scored ten goals in their group matches, but had conceeded four, and failed to keep a clean sheet.
So if someone could hold them out, it would be the team they would meet next. In a rematch of the 1966 final, Germany were to play England in the World Cup Quarter Final. If anyone was going to stop the free scoring Germans (led by Der Bomber, Gerd Muller – the fact that he's Gary Lineker's favourite ever player tells you all you need to know, well that and he had 7 of Germany's ten goals) it was going to be Banks. Fresh from keeping out Pelé what could stop him?
So the England squad are sat around the night before the match. Annoyed that Bobby Moore had been accused of theft in an attempt to upset the side, and annoyed at the noise from outside the hotel, the lads go and get something to eat. Fate would strike.
The boys have been told to eat Fish Fingers as they are high in protein. Gordon Banks has a better idea and rummages around to find some sausages instead. He eats them, and promptly gets very sick indeed. With absolutely no notice, on the morning of the game, Peter Bonetti is thrown into the lions den, and has to face an absurdly in-form German strike force.
It does not go well. England went two nil up, and dominated early on, the goals came from Alan Mullary and 1966 hero Martin Peters. However, Bonetti, looking a bit shakey in goal, dived lamely over a Franz Beckenbauer strike to put the Germans back in. Seeler got the leveller after Bonetti was miles off his line, confusingly out of position.
An England-Germany match went to extra-time again. Alas, it was not like 1966, and a Gerd Muller (who else?) goal put the Germans in the semi final.
So lets rewind, and invoke the What if. What if, Banks had fish fingers with the rest of the boys, and didn't come down with food poisoning the next morning?
Now I would hate to lay the blame entirely at Bonetti (I'm not, by the way, it must be a bit nerve-wracking to be told on the coach there that your playing a World Cup QF on such short notice), but watch the highlights, and tell me that either of the first two German goals goes in with Banks in goal (or indeed, a Peter Bonetti who's expecting to play). They wouldn't. England would have won.
Which would have set up a game with Italy in the semi-final. Far from their modern day reputations, it would have been England who would have looked to have ground out a result here. Banks, in the form of his life would have kept it tight at the back, while England nicked a goal and headed to that reunion with Pelé and Brazil in the final.
There's no doubting the quality of that Brazil side. There is also no doubting how close we pushed them for a draw in the group. Who knows what would have happened in that final? It isn't inconceivable that England would have won though, fired up and looking to make amends for the group stage.
Peter Bonetti, in this timeline, would go on to have a magnificent England career by the way. In the real timeline, he conceeded just one goal in his other six matches for England, which shows he really was a quality goalkeeper. After 1970, Banks would slow down in the England goal, and Bonetti would have been the ideal replacement, and, not dogged by memories of 1970, would be England's number one for years, even keeping Peter Shilton out of the team in the latters early days – thus ensuring that now, in this alternate 2009, David Beckham is England's leading caps-getter. Shilton went on to become an England legend, but his slightly later start meant he never amassed the 125 caps he has.
Think that I've taken the knock on effect too far? Well check this out, the world might have been even more different had Banks stuck to the Captain Birdseye.
Subscribe

England Football Team World Cup Blog RSS Feed

Share
blog comments powered by Disqus