What Bridge's Decision Means for England
February 25th, 2010 | by: Matilda |

Comments Off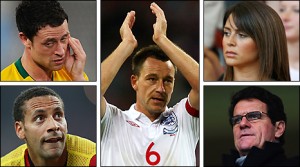 As Daryl posted earlier in the day, Wayne Bridge has removed himself from the England pool. I can definitely understand, it might be a bit painful being around your ex-teammate who hooked up with your baby-mama for a whole month. Aside from the inner-turmoil which is certainly making custody negotiations awkward for the Bridge family as we speak, and the invention of the wonderful chant "Mrs. Bridge is going down going down going down, Mrs. Bridge is going down on John Terry", this whole fiasco means several things for England.
Who's gonna play left back? With dear Cashley out for quite a while, and Bridge counting himself out, England are left in a bit of a pickle. The next obvious option is Joleon Lescott, but ever since he made the move to City he hasn't played well at all. Last season I was quite impressed with him, but he hasn't impressed me once this season. It will be interesting to see what Capello does against Egypt.
Is Fabio as much in the know as we think he is? Bridge picked basically the worst time to break this news, as just yesterday Capello issued a don't-worry-everything's-ok statement. In fact the exact quote was: "No, he will be with us. No problems about the other things." Just over 24 hours later Bridge says: "[A]fter careful thought I believe my position in the squad is now untenable and potentially divisive." This means one of two situations: either Capello and Bridge were arguing over his position and Capello issued the statement yesterday to try and corner him, or they jsut weren't communicating at all. Either scenario significantly undermines Capello and his power over his players.
Honestly I think Bridge should have attempted to put this aside. Playing for England, in my mind, is one of the highest honours one can attain, and it should be more important than your personal life. It puts Capello in a difficult positions for two reasons: he needs a new left back and needs to reassert his power. We'll see how the World Cup goes, but I'm willing to bet it would have gone better if Bridge had been there.
Subscribe

England Football Team World Cup Blog RSS Feed

Share
Comments are closed