It's Probably Hard to Concentrate With Fabio Capello Watching
August 24th, 2009 | by: Daryl |

Comments Off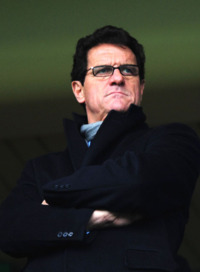 Fabio Capello will be spend a lot of time watching English players in Premier League games between now and next summer. And I can only imagine the pressure of being an England fringe player and knowing that Capello is in the stands checking you out.
Playing Premiership football is tough enough, but knowing that the man who decides whether you go to the 2010 World Cup or not is there to judge you too? That's a lot to think about.
Which is why I have all kinds of sympathy for West Ham's Carlton Cole.


Because with Fabio in the stands he first did this:
Which had to have Carlton wondering whether he wanted a window seat or an isle seat on the plane ride to South Africa.
But followed it up with this:
Not only giving away possession under almost no pressure, but also gifting a goal to potential 2010 squad place rival Jermain Defoe.
The only upside for CC is that maybe Capello watched the "Carlton Cole through ball to Jermain Defoe" manoeuvre and saw not a terrible terrible error, but a potential big-man little-man strike partnership instead.
Subscribe

England Football Team World Cup Blog RSS Feed

Share
Comments are closed