Is It Too Early to Get Excited About Sturridge?
February 14th, 2011 | by: Matilda |

Comments Off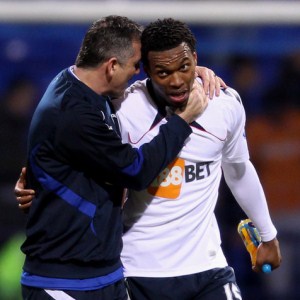 As some of you may know, I am a Bolton fan. At the very end of the transfer window, we were lucky enough to pick up a certain Daniel Sturridge on loan. In the three games since joining Bolton, he's shown why Coyle was interested, scoring in each of them. He's now scored as many for Bolton as he had in his previous 31 Premiership appearances. He's already received the plaudits of multiple teammates. As my Bolton Offside coblogger put it, he's started for us like multiple houses on fire. However this pace is obviously unsustainable, which makes the question: how far will his form drop?

Sturridge has proven he can score goals, quite good ones at that. He also has a good work rate, popping up all over the pitch, which was especially on show against Everton. But even in this good form I'm wary of getting too excited about him. He found himself on his back more often than John Terry's mistress(es), which was frankly quite embarrassing for the team and the fans. He and new teammate Johan Elmander got in a tiff on the pitch, and while I don't know who was at fault, it's unusual for this team to argue on the pitch, and it's not good that it began when he arrived. He's only 21 and clearly has a bit of growing up to do.
Sturridge does show a lot of promise, I'm certainly not arguing with what he's done for Bolton so far, but all this talk him being the "future of England" is premature. Three games does not a career make. His goal ratio is phenomenal, but not something he can keep up. His game is good, but there is certainly work to do. He needs to prove his ability for longer than two weeks to earn an England call up. For now, I just hope he keeps doing his thing for Bolton.
Subscribe

England Football Team World Cup Blog RSS Feed

Share
Comments are closed