Gerrard and Rooney – The New Gerrard And Torres?
May 18th, 2010 | by: Ethan Dean-Richards |

View Comments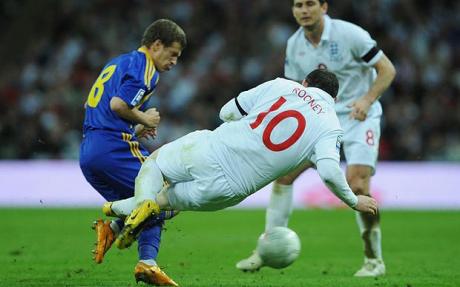 Guys, guys, come on, there's enough of me to go around!
Attempting a detailed analysis of England's tactical approach before their first World Cup game is unlikely to draw out accurate results, not least because Fabio Capello himself may still have several key decisions to make about his team; injuries and performances in friendlies against Mexico and Japan will feature prominently in his thoughts. Nevertheless, the widely held assumption that Wayne Rooney will start in a 4-2-3-1 formation playing behind A Big Striker, prevails amongst most England fans.
It prevails as an assumption, but not as an aspiration. According to a poll by The Telegraph England fans favour a Steven Gerrard-Wayne Rooney partnership, with Gerrard presumably playing off Rooney in similar manner to his previously successful partnership with Fernando Torres. A 4-4-1-1, if you will. 
If they can't have that then they want Jermain Defoe – 24 goals this season for Spurs – alongside the United man in a straightforward, safe, 4-4-2 formation. And, if there has to be A Big Striker, then they think the other Tottenham man Peter Crouch should be it – anyone but Emile Heskey, it seems.
England fans' reluctance to play Heskey has sound enough reasoning to back it up: his form: Capello's own marker for an England place ("A place in the national squad has to be deserved, and it will be based on behaviour, play on the field and attitude"). The Villa striker has been a benchwarmer for his club during most of the season and has a far less impressive goalscoring record than most of his direct competitors to start up front – just 3 in 2010.
But whilst Heskey's lack of form legitimises a preference for the likes of Gerrard and Defoe, it doesn't necessarily explain it. Heskey is an ancillary name who plays a subservient role: two attributes that fans rarely have time for. Capello's judgement is more thorough: Heskey's performances particularly early on in England's qualifying campaign against the likes of Croatia have demonstrated his effectiveness as a foil for Rooney and any given winger, be it Walcott or Lennon, and the experienced England manager is unlikely to forget that quickly. Don't bet against him being in the team that lines up against the U.S.A in three weeks' time.
If this seems to dismiss the views of England fans as trivial, it is not the intention. The prospect of a playing Gerrard and Rooney in tandem appeals beyond the superficial notion of naming a team packed full of stars. Rooney's season at Manchester United has seen him operate largely as a lone striker (albeit ably supported by a talented selection of wide-men) and perhaps Gerrard's most impressive form ever was facilitated by a second-striker role behind Torres in the 2008-2009 season.
These facts alone may tempt Capello to rethink his intention to play a target man like Heskey or Crouch. Added to that though is the already well-recognised relationship between Gerrard and Rooney, the two men generally acknowledged as England's most creative forces (as seen against Belarus in particular in the qualifiers). Few doubt that the two could, in the right circumstances, create a profitable partnership.
And it is at this point that the get-out clause is excercised: pragmatist that the England manager is he may well rotate his striking options depending on the approach of opponents and the immediate realities of a game over the course of the tournament. Emile Heskey (should he make the flight at all!) could find himself coming on late in a tight game against, for example, Algeria, who may (!) sit deep in order to neutralise the creative sparks of Rooney and Gerrard. Or, Defoe could come on for Heskey in a game where the target-man role adds little – perhaps against an Italy or a Germany where the likes of Chiellini and Mertesacker will in all likelihood dominate the aerial battle but look less assured one-on-one with an attacker.
Capello and England fans' opinions have differed surprisingly little during his reign so far – winning, of course, makes this more likely – and whilst the appearance of disagreement is there when the discussion moves to strikers, only watching will reveal what Capello really thinks.
The gap between assumption and aspiration may not exist at all and if England keep winning we may not notice even if it does.
Subscribe

England Football Team World Cup Blog RSS Feed

Share
blog comments powered by Disqus