The best England kits
March 27th, 2009 | by: Rob |

View Comments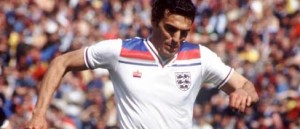 So tomorrow on the pitch, the wait shall be over and the new England kit will be revealed. We have our hopes, and we have our fears. But it seems a good chance to look back at the best kits we've seen our boys go out in. Will the new one live up to any of these bad boys? Fingers crossed…
1982 (Admiral)
Quite iconic in its own right, despite England not being entirely a sucess in '82. Here's an England shirt that actually tries to do something a bit different from the norm – a blue and red stripe across the front. Oddly though, it works. The V-neck and tiny shorts might date it somewhat, but this is still a shirt you could get away with wearing to the pub and looking vintage, rather than just someone who couldn't be bothered to buy the latest.
1996 (Umbro)



Football came home for Euro 96, and we were dressed for the occasion. A fairly stripped down shirt was just white, with blue trim. Badge in the middle, with a uninterferring Umbro logo just above, number underneath. Made perfect sense, especially as a national team shirt. Just don't think about that ghastly away kit.
1966



The red is the icon here, mainly because of the amount of times you've seen Bobby Moore lifting that Jules Rimet Trophy. The shirt is simplicity itself, Just red, a round neck, long sleeves and the England badge. Red has been an on-off staple of the away kit ever since – but rarely have they come up with something so simple.
1979 (Admiral)



Similar to the one that followed, but without a World Cup to back it up, its sometimes unfairly forgotten. The difference between this and the 82 model is that the red and blue are pinned back to just two stripes on the sleeves. This one's a winner, classy, simple but not plain.
1990 (Umbro)



Gazza cried, but not because of what he was wearing. Umbro's 1990 design has become one of our iconic shirts, and one of Toffs bestsellers. Easy to see why, the umbro stuff doesn't get in the way, and unusally, actually adds to the shirt around the sleeves.
Subscribe

England Football Team World Cup Blog RSS Feed

Share
blog comments powered by Disqus