John Terry, Steven Gerrard and Sir Bobby Robson Honoured at FIFA 2009 Gala
December 22nd, 2009 | by: Daryl |

View Comments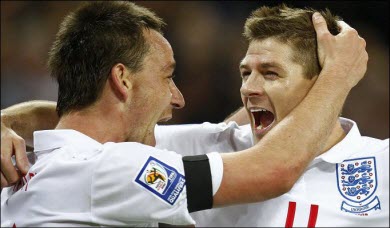 The FIFA end of year gala was last night in Zurich, with plenty of awards handed out to the cream of world football. Including: the FIFA/FIFPRO World XI, voted for by the world's professional footballers:
Iker Casillas (Real Madrid), John Terry (Chelsea), Nemanja Vidic (Man Utd), Patrice Evra (Man Utd), Dani Alves (Barcelona), Xavi (Barcelona), Andres Iniesta (Barcelona), Steven Gerrard (Liverpool), Lionel Messi (Barcelona), Cristiano Ronaldo (Real Madrid), Fernando Torres (Liverpool).
Congratulations to John Terry and Steven Gerrard, the two England players who made the XI. England was the second most represented nation, behind Spain who had [counts quickly] four players in there.
Unsurprisingly, the 2009 FIFA World Player of the Year award went to Leo Messi. All national team captains and coaches got to vote for their top three, and FIFA rather helpfully published the ballots in PDF format afterwards. Read on to find out who Fabio Capello and John Terry voted for:
Fabio Capello voted: #1 Leo Messi, #2 Fernando Torres, #3 Gigi Buffon.
John Terry voted: #1 Didier Drogba, #2 Michael Ballack, #3 Andres Iniesta
Think there's may be just a little bit of Chelsea bias going on with Terry's votes there. Don't you?
The other England related highlight of the night was the late Sir Bobby Robson receiving the FIFA Fair Play Award. Here's what FIFA.com had to say:
The most emotional moment of the ceremony came when the winner of the FIFA Fair Play Award was announced. Recognised for his sterling contribution to the spirit of the game throughout a distinguished career, the award went to legendary English player and coach Sir Bobby Robson, who died in July this year and was widely admired for his sportsmanship on and off the pitch. Collecting the award from UEFA vice-president Senes Erzic was Sir Bobby's wife Elsie Robson.
Here's video of the minute of respect for Sir Bobby Robson before the Netherlands vs England friendly in Amsterdam in August.
Subscribe

England Football Team World Cup Blog RSS Feed

Share
blog comments powered by Disqus