Hello, Good Evening, and Welcome
February 7th, 2009 | by: Rob |

View Comments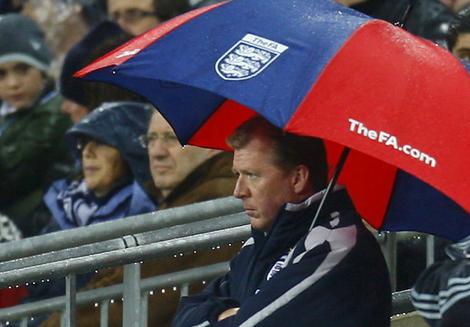 Hello, I'm Rob and I'm joining Daryl here on the England Blog. You might know me from some of the other things I do on The Offside, The Prem Blog and the Champions League blog. Those who don't, never fear, this post will introduce how I feel about my country, and indeed how I feel about the big England issues of the moment.
I am English, born in Bristol (and thus support local Bristol Rovers), discovered football in 1994 when most Americans did, and most English were complaining about the lack of England at the World Cup.
My lowest moment was England against Portugal in 2004, highlights have included Beating Scotland in Euro 96, Qualifying for France 98, Beating Germany 5-1, Beating Argentina in 2002. Hmm, Its been awhile since a geniune highlight hasn't it? I did enjoy the recent win against Croatia though. Suddenly England games were fun again.
So after the jump, here we go on a list of things that relate to how I feel about England.
1) We need a proper national anthem. God Save The Queen, apart from being and awful dirge no-one believes in anymore, is the National Anthem of the United Kingdom. England does not have a National Anthem, so we can use anything. My vote goes to Jeruselum.
2) Gerrard and Lampard can play together, but I'm a touch bored of the debate. Think about it – when any midfield plays, what are the chances that both your centre mids are going to have really good games? One maybe, but both? And yet we scrutinise the England team so much that unless both Lampard and Gerrard have really good games, no-one is going to stop talking about it.
3) Beckham should be in the squad. He should start against Spain too. At the moment, he's the second best right-winger we have, behind Theo Wallcott. Theo's injured, its a no-brainer.
4) Its good to see Fergie give up against the Don. I agree with Daryl, its fantastic if Fergie has finally given up trying to argue with national managers, they should have absolutely no say at all – and players should be fighting tooth and nail to play for their countries.
5) England matches should be on ITV or BBC. For years we had to put up with Sky having half England's games – now its Setanta's turn. Its dreadful either way, the National Team should be avaliable to everyone. Even if ITV just cut away when England score.
6) Friendlies ought to have more value than they do. Sometimes I get the impression that some players would rather just stay at home in international week, especially if its a friendly week. When this is the case, the player ought not to be called back, however talented.
7) Comic Relief/Sport Relief/Children In Need provide my greatest fear. Because you know one of these days, Steve McClaren is going to turn up and start dancing with his umbrella to Singing In The Rain. And everyone will go "Aww, see he's able to laugh at himself, he's not the antichrist afterall". And I don't care if he can laugh about it, it hurt.
8. Thank God for Fabio. Steve McClaren made watching England a real chore. Something I felt I had to do. Now, I want to watch England again. Not entirely because we're winning, but because I'm not filled with the dread of a home match against Andorra anymore.
Thats about it really, although feel free to ask me anything else in the comments. I'm sure if you stick around you'll learn how I feel about things anyway.
Subscribe

England Football Team World Cup Blog RSS Feed

Share
blog comments powered by Disqus