Gascoigne laments the lack of flair players
April 20th, 2009 | by: Rob |

View Comments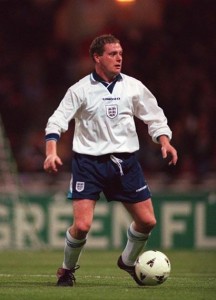 Paul Gascoigne, probably England's finest ever natural talent, was back on TV yesterday, to talk about the fall of the flair player in English football. The former Rangers and Lazio midfielder was on Match of the Day 2 and talked about the improvement in his own life (thank God, its about time), and the fact that players over here have the ability to take a player on coached out of them.
"The thing is, nowadays, is that these kids can do it, when they're young kids, but when they're getting older now, that's the problem, its being taken out of them, because they've got to be strong…you just don't see many players taking on other players nowadays"
He's never been looked upon for intellegent advice – he was famously described by Bobby Robson as "Daft as a brush" (that's quite something from someone who actually got himself mixed up with Bryan Robson) but lets be honest, he's quite right.

Its wonderful to see. We always look to the Brazilians and marvel at their wonderful skill, and are stunned when one of our boys does it. But why? In the playground, its all anyone ever tries to get good at, beating his man. And yet, looking at the current England set-up, the only player with that flair is Joe Cole, who doesn't seem a favourite of Capello's even when fit and perhaps Theo Walcott.
I'm not suggesting we should have 10 Gazza's out on the pitch, obviously that would never work. But it is a problem with English football, it shouldn't be that when you think of European or South American football its somehow more glamorous and exciting, the days of Don Revie's England should be long over.
Partly to blame is the Premier League, it is a hard league to an extent. Certainly Arsenal have felt the problems of playing an all-out flair game (ie the squad is filled with injuries where they get kicked to pieces), and watching the FA Cup Semi-final yesterday was rather like watching a stereotypical Italian game, fascinating to watch, wonderful in defence, very little football to get worked up about.
Its just odd that it takes a certain type of headstrong player to grow up in this country still playing the sort of flair football that fans love to see.
On a side note, it is really nice to see Gazza looking so well. He also said on MOTD2 that he no longer craves a drink and is on a strict training schedule (he actually looks much more athletic than he did in his England days!). I've never hidden my admiration for his ability on the pitch, and it would be nice for him to find a bit of happiness off the pitch, in an area he has so struggled in his life.
Subscribe

England Football Team World Cup Blog RSS Feed

Share
blog comments powered by Disqus