David James' Career Conundrum
January 23rd, 2010 | by: Matilda |

View Comments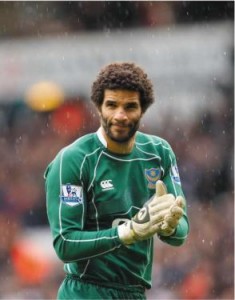 I've always considered David James as one of the most reasonable and loyal players in the Premiership. I mean he offers a masterclass in ironing and bedmaking at a Portsmouth center for adults with learning disabilities.  This is a good guy. But he's getting up there, he'll be turning 40 this August, and has made the most appearances in the Premiership ever.  It's fair to say he won't have a shot at the national team for too much longer, I reckon Euro '12 will probably be his last major tournament, if he makes it that far.  And that's where the conundrum begins.

I'm sure you've heard of Portsmouth's troubles this season, they've paid their players (as well as the rest of the Portsmouth staff) late three times, they've had two takeovers in the last year, and now they aren't allowed to buy any players in the transfer window. They've won just 4 times this season, and sit dead bottom of the table with 14 points from 20 games. It's fair to say that the sun has not been shining on the South Coast recently.
It now looks like David James will almost certainly complete the loan deal with Stoke. So that's it I guess, one of England's most loyal players has chosen his country over his club. I'm fairly sure if I was David James I would've done the same thing. Portsmouth's a sunken ship at this point, they will be going down to the Championship, bar a miracle, and I doubt they will be promoted again for a while. His days are numbered, and he's clearly a man who wants to be plying at the top level, both internationally and at club level for as long as possible. So what do you think, should David James have chosen club or country?
Subscribe

England Football Team World Cup Blog RSS Feed

Share
blog comments powered by Disqus