Do England Really Have More Questions Than Answers After Beating Mexico 3-1?
May 25th, 2010 | by: Ethan Dean-Richards |

View Comments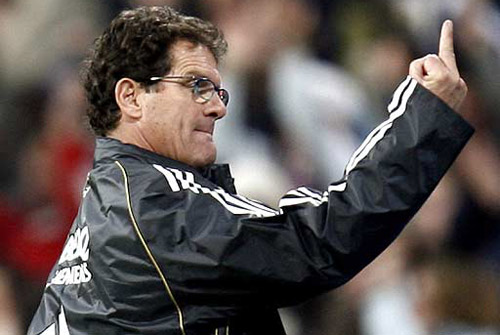 Yes, I looked angry last night, but wouldn't you be worried if I didn't?
As Carlos Vela and Guillermo Franco kicked off for Mexico in England's final Wembley appearance before the World Cup they may or may not have known that the story of the game had already been written for them. England, missing over a quarter of their notional starting lineup in the form of Chelsea's FA Cup stars: John Terry, Ashley Cole and Frank Lampard, and City's injured Gareth Barry, were destined to fall short of expectations.
Of the absences, that of Gareth Barry and Frank Lampard from midfield was the most striking. From very early on Mexico's high pressure approach exposed their replacements, James Milner and Micheal Carrick, as lacking the composure neccesary to maintain posession as well as the positional sense to cut out attacks at source.
In the sixth minute we watched the results of those positional failings as West Ham's Franco found himself one on one and able to turn Ledley King; Torrado, the excellent Mexican captain, had been gifted space in the centre of midfield and used it to set Salcido free on the left and it was his low cross that found Franco.  
Rio Ferdinand, the new captain, and Ledley King: together an all new central defensive partnership, also found it difficult to adapt to their new roles. The pace of Arsenal's Vela and Spurs' Giovanni dos Santos combined leave them on the back foot all too often and Franco looked sharp enough to take advantage. Had any one of that front three gambled on Aguilar's ball in from the right with ten minutes gone England would have found themselves a goal down.
The story of the first half was not of things going Mexico's way though, and England took the lead when Peter Crouch's back post header off a Steven Gerrard corner found King to nod the ball home with 20 minutes gone. That goal was notable as Crouch's first significant contribution and Steven Gerrard's first useful pass. Their second came fifteen minutes later when Gerrard's cross was met by Rooney, parried onto the bar by Perez in the Mexico goal, and handled in by Crouch.  
Two goals down going into half time and Mexico could have felt extremly hard done by: Robert Green had made two excellent saves following each of England's goals and they always looked a potent attacking threat. But that situation never arose as the ever dangerous Franco managed to capitalise on uncertainty in the England defence following a corner and tapped into an empty net right at the ned of first half stoppage time.
Capello, as expected, made changes at half time: Joe Hart, Jamie Carragher and Jermain Defoe replaced Robert Green, Rio Ferdinand and Peter Crouch. That signalled a subtle shift to 4-4-2, with Rooney moving up front with Defoe, Gerrard moving back into midfield with Carrick, and Milner moving to the left.
That shift can have had little impact on Glen Johnsen's game-killing, spectacular left-footed goal, scored almost immediately after half time, but it did facilitate England's improved control of posession. Gerrard in particular looked much more assured in a deeper position and, somewhat dissapointingly, Milner looked much improved playing as a straightforward wideman.  
Major second half incidents were hard to come by but Aaron Lennon and Adam son's seven minute cameos briefly lit up the game. Lennon's burst past four Mexican defenders should have created a goal, but instead it bought a foul on the edge of the penalty area. Theo Walcott, the man Lennon had come on for, could but watch. Joe Cole should be worried.
So, Do England Really Have More Questions Than Answers After Beating Mexico 3-1?
Answers
1. All the goalkeepers can do a good job
2. The back four look nailed on: Johnsen, Terry, Ferdinand and Cole
3. Glen Johnsen is improving every time he plays for England
 4. Jamie Carragher and Ledley King are the back-up centre halves
5. James Milner is not yet ready to replace Gareth Barry and nor is Michel Carrick
6. Frank Lampard and Gareth Barry are by far their best central midfield pairing
5. Aaron Lennon is ahead of Theo Walcott: but either one will be a threat
6. Peter Crouch scores goals against the little teams, but doesn't contribute enough to overall play…as of yet
7. Steven Gerrard is still not in good form, but whenever he links up with Rooney he looks good
8. Rooney can play anywhere – on the left, behind the target man, or as the target man.
9. Adam Johnson looks set to be the shock inclusion in the final 23
 Questions
1. Who is the number one goalkeeper?
2. Will Barry be fit?
3. Who will fill in if he isn't?
4. 4-4-2 or 4-2-3-1?
5. Where does Gerrard start – on the left or behind the striker?
6. Where does Rooney start – on the left, behind a target man, as the target man, or next to Defoe?
*
English media outlets all have their agendas and it seems increasingly that they influence match reports and England articles more than the reality of a game - last night's match was relatively low-key, but articles have to come from somewhere. England did not play all that badly against Mexico and the questions – made to seem so terrible by most – are mainly generated by the quality options that England have.
Subscribe

England Football Team World Cup Blog RSS Feed

Share
blog comments powered by Disqus