FA Lowers Ticket Prices, Now It's Your Move
July 21st, 2010 | by: Matilda |

View Comments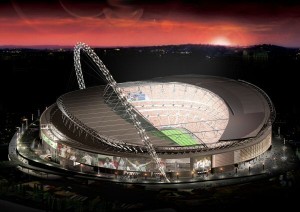 There are a lot of questions surrounding the England camp, the most important obviously being who's in the team. Capello's next move will be very interesting, in terms of just how much rebuilding he does. Well Capello's next move is scheduled for August 11th, at Wembley Stadium against Hungary in the form of an international friendly. As much as I was appalled by the England team during the World Cup, and as much as I feel sorry for the people who spent money to watch that, I would quite like to go to this friendly. And at the reduced ticket prices, if there weren't the pesky Atlantic Ocean to deal with, I would be going. The FA announced today that it is lowering the ticket prices, apparently to say sorry after South Africa.

You can now get a family ticket (for 2 adults, 2 children) for £60. In the family enclosure (wouldn't want them getting out now) tickets will be £20 for adults and £10 for children. For those of you who have never purchased tickets to a football game, that's incredibly cheap. That's cheaper even than going to Bolton. The FA really is very very sorry. And by that I mean, they're very very worried about their attendance figures. Being a Bolton fan, I know that there is very little that's sadder than a sea of empty seats.
While we haven't all forgiven England for taking our hearts, tearing them out, and crushing them into the dirt, this is a very important game in that it will set the tone for our qualifying campaign. Capello and co. will obviously want to get the bad taste of South Africa 2010 out of their mouths, and the way to do it is to put out an impressive showing. This is the last match before the qualifiers start, if Capello wants to do any experimenting, this is his chance. This is the beginning of letting go of that performance. Whatever Capello's direction for the next two years is going to be, it starts 21 days from now.
Subscribe

England Football Team World Cup Blog RSS Feed

Share
blog comments powered by Disqus