England come through Easy Friendly with no injuries
June 7th, 2010 | by: Rob |

View Comments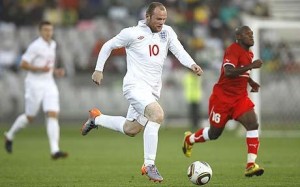 England beat club side Platinum Stars 3-0, in their final run out before the World Cup match against the U.S.A on Saturday, and most importantly of all we have had no fresh injury worries.
So what did we, or indeed Capello, learn from the match? Probably not that much. It was an easy win, obviously played at half pace. There was encouregingly good link up between Wayne Rooney (who played 45 minutes) and Joe Cole (the full 90) the former setting the latter up for England's second goal.
Joe Cole playing on the left allowed Frank Lampard and Steven Gerrard to play together in the centre of midfield, and it was…okay. Gerrard played in a much deeper role – basically Barry's role – which gave Lampard free reign to stay up with the strikers. Gerrard set up Jermaine Defoe for the opening goal.
Joe Hart started in goal (though it doesn't count as an England start as it isn't a full international) and didn't do much except watch Glen Johnson give away a Penalty, which was blazed over the Crossbar. He had nothing to do. Rob Green took over, and didn't have much more to do.
So a nothing match, and the main thing is no injuries, and a few players (Joe and Ashley Cole, Rooney) looked in good shape. Hopefully, Fabio now knows his starting XI and all we can do now is cross fingers and hope that the best XI players run out onto the field on Saturday against America.
Subscribe

England Football Team World Cup Blog RSS Feed

Share
blog comments powered by Disqus