England 4- 0 Slovakia
March 28th, 2009 | by: Rob |

View Comments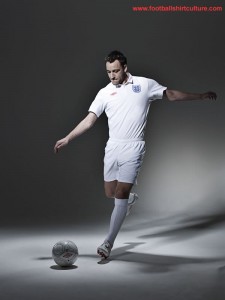 We might have been playing against a side that couldn't care less, but England recorded a confident 4-0 win over Slovakia this evening, thanks to goals from Heskey, two from Rooney (by far England's best player), and Lamaprd.
Probably the most notable thing about the match however was the cursed striker position. Not long after scoring, Heskey limped off replaced by Carlton Cole who was soon carried off, replaced by a not 100% Peter Crouch, who predictably left the proceedings early. Certainly wouldn't have wanted to be Carrick who came on for Crouch. Rooney looked like he was limping a bit towards the end, but his last minute goal may put minds to rest a little.
So some thoughts on the match:
Firstly – Rooney was our best man. His link up play with Gerrard was very good first half (I always think Lampard links up better with Roo, but was not the case today, with Gerrard and Rooney interweaving to cause havok for the Slovak defence).
That other age old debate, I thought both Lampard and Gerrard were fine. Gerrard only played the first 45, but I sort of don't understand this thing about them not being able to play together. It seems that unless both have mind blowing performances, the nation won't be satisfied.
The New kit – Well its very white. I think it would look better with blue shorts myself, with white there's a look of Wimbledon (Tennis, not the now non-existant club) circa 50 years ago. Its pretty plain, which is fine as its a throwback, but for all the talk about tailoring, the only players who look alright in it are Lampard (who oddly looks like a 50s player in it) and Beckham who it seems can wear anything. It does keep the star, but oddly in white, so you can't really see it. Only problem I'd have with it, is I'd begrudge paying £40 for something so plain.
Back on the pitch and Beckham came on at HT and broke Bobby Moore's outfield player caprecord at last, which means we shouldn't hear much about it for a bit. I'm happy its someone like Becks who has the record, as it a) shows just what pure determination can do and b) I can't think of a player who has worn the Three Lions in the last few years who that kind of thing would mean more to.
Ben Foster also came on at half time, but he didn't have a great deal to do to be honest. Mind you better to make first international steps like that rather than in a really important game in the rain. Ask Scott Carson. I still would rather see Green in games like this
So a confident performance from England. We possibly should have dominated more, but I think there was an element of saving themselves for Wednesday. Heskey opened the scoring early on thanks to a Steven Gerrard cross along the six yard box. James only had to make one big save in the first 45, thanks to an Upson mistake.
Speaking of defensive mistakes, Skrtel had a mare for Slovakia. I mean a really really bad game.
England's second came from a beautifully weighted David Beckham ball which Rooney headed (yes, Rooney, headed! Thats how good a cross it was) in. He immediately went over to thank England's most capped outfield player.
Lampard's goal was brilliantly taken as well – England took a freekick quickly (forgetting who was playing Right Wing for a sec) Carrick teeing up Lampard on the edge of the box, who took a touch inside to place it across the goal.
Rooney capped off the game with a goal with the air of offside about it – Downing played him in, he jinked past the keeper and stuck it in the top of the net.
The big question then, is who is going to play up front for England against the Ukraine? Fabio has to call up someone, but not sure who (is Owen fit at the mo?). Maybe he'll just opt for Rooney with Gerrard and dare I say it, Lampard behind him? Who knows.
Subscribe

England Football Team World Cup Blog RSS Feed

Share
blog comments powered by Disqus