Fabio snaps at snappers
June 9th, 2010 | by: Rob |

View Comments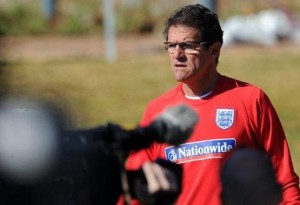 Fabio Capello showed the first signs he might be feeling a bit of pressure this morning, as he lost his temper with photographers at the England training camp. Apparently he was upset that the photographers had gotten inside the building and taken photos of the medical facilities and so on.
Brilliantly, after shouting them down, he stood and stared them all out for a bit, before his players joined him on the pitch for a routine training session (everyone is currently okay – Milner and King did some Gym work, while the rest of the squad trained as usual).
Its hardly the first time an England manager has lost it with the press. Directly before the 1990 World Cup, Bobby Robson lost his temper with journo's who had claimed he had walked out on England (he actually just wasn't having his contract renewed after the World Cup).
We eventually did pretty well in that World Cup, reaching the Semi-Finals. So probably, this is nothing to worry about. Capello has always had that fire in him, and if he can use it to create the right atmosphere in the England camp, it certainly could be useful.
Hopefully it doesn't mean he's snapping under the pressure. I don't think in this case it is that though, Fabio just isn't that sort of character, and he's certainly faced high pressure situations before.
Subscribe

England Football Team World Cup Blog RSS Feed

Share
blog comments powered by Disqus