Five steps forward for England (Part two…of five)
July 7th, 2010 | by: Ethan Dean-Richards |

View Comments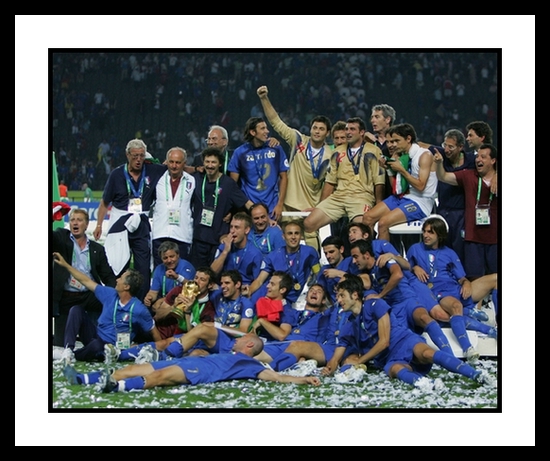 How can we get success like this?
Tradition dictates that all value judgements made before an England World Cup exit be immediately reformed in the weeks and days that elapse following it. The regularity of the clamber has undoubtedly dampened its effect over the years and, as such, scepticism about the extent to which anything England will change after the latest knockout is justifiable: therefore for suggestions to be anything but fantastical they're going to have to be minimal. Here are five that fit the bill (over the course of five posts):
2.) Offer incentives for English clubs to provide players for the national team
The impressionthat England have been unlucky in international tournaments is comforting, though ultimately illusionary. Injuries to Rio Ferdinand and Owen Hargreaves this time out added to a linesman's decision to perpetuate the myth, but poor decisions and injuries afflict all teams to an (almost) equal degree, only their impact varies.
The Three Lions remain vulnerable to injuries because England, the country, does not produce enough top-class players. Germany's manager, Joachim Low, was able to bring Sami Khedira into his team for South Africa when his captain, Michael Ballack, sustained an injury whilst playing for Chelsea; Fabio Capello was eventually forced to bring in hapless Matthew Upson for his captain. One injury usually costs us, it does not cost them.
How can the talent pool be increased? The general secretary of the German Football Association, Wolfgang Niersbach, points to their investment of "an annual €20m [£16.5m] earmarked for talent promotion in the widest sense of the word. At grassroots level, a nationwide network of 366 training centres has been set up, mostly using the infrastructure of local clubs with above-average facilities, where 14,000 youngsters aged 11-14 receive extra tuition by way of a weekly two-hour training session imparted by a DFB-appointed coach. This is in addition to the training they do with their respective clubs". 
Relatively insubstantial figures – around that paid to Fabio Capello over the course of his proposed four year tenure - can reliably and efficiently generate talent if targeted correctly. Yet root-and-branch reform remains difficult to imagine with the same people who invested over a billion pounds into Wembley stadium still in charge of the FA.
Instead, reform may have to be led by clubs. Premier League chairmen have fought off various threats to their sovereignty – FIFA's 6+5 rule was quietly abandoned around the beginning of the World Cup - ensuring that it remains their prerogative whether or - usually - not to bring young English players through their academies.
They have at least agreed new rules on the number of "home-grown" players in their squads as an indication of willingness to preserve some kind of link to the fundamental aims of their national association, yet the commitment remains shallow and for progress to be made  it appears frustratingly inevitable that incentives must be put in place.
This could involve grants for clubs that supply England internationals and the transferal of the burden that is insurance liability whilst on international duty to the FA. It must also involve an improved dialogue between the clubs and those in charge of the national team – concessions on friendly appearances may have to form a part of that dialogue. There is no stick (how we wish there was), so the carrot will have to do - clubs will have to have it all their own way again.
*Please try the links – they take ages to find and usually (except for the odd self-indulgent one) enhance the ideas put forward
Subscribe

England Football Team World Cup Blog RSS Feed

Share
blog comments powered by Disqus