Five steps forward for England (Part five…of five)
July 9th, 2010 | by: Ethan Dean-Richards |

View Comments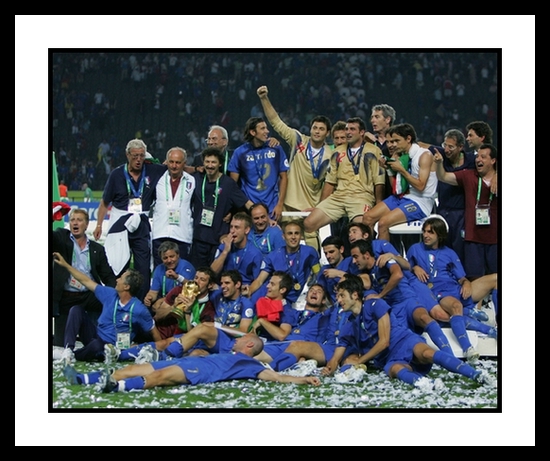 How can we get success like this?
Tradition dictates that all value judgements made before an England World Cup exit be immediately reformed in the weeks and days that elapse following it. The regularity of the clamber has undoubtedly dampened its effect over the years and, as such, scepticism about the extent to which anything England will change after the latest knockout is justifiable: therefore for suggestions to be anything but fantastical they're going to have to be minimal. Here are five that fit the bill (over the course of five posts):
5.) Don't change everything – especially not the pressing high up the pitch
Germany dramatically exposed the weaknesses of Capello's England and the FA's planning in Bloemfontein last Sunday, but Die Mannschaft are an excellent side – ask Argentina. Enough things were right with English football for the national team to reach the last sixteen of a World Cup – further than France and Italy. Indiscriminate chastising leads only to poor decisions. Causes and symptoms must be separated: Individual error must not be confused with managerial mistakes.
Capello's commitment to pressing high up the pitch, for example, was made to look foolish last week as it simply allowed the Germans to find space in behind the England midfield quickly and easily. However, it was the implementation, and not the idea, that was wrong.
John Terry's self-indulgent runs up the pitch were not a part of the plan. It is a misconception that pressing involves positional indiscipline and a symptom of the confusion that arises when defeats force re-assessment to happen too quickly.
High pressure approaches work – see Barcelona 2008–10 for details. The problem in South Africa was not with the system, but with the individuals within it. The ageing squad, Frank Lampard and Gareth Barry in particular, were not able to sustain pressure on the ball alongside tracking back, thus the vulnerability to German counter attacks.
Luckily, this lack of compatibility will soon disappear under its own terms. With more time to practise and younger players to implement the high-pressure approach it can and will work next time.
So many things are wrong, but not every little thing.
*Please try the links – they take ages to find and usually (except for the odd self-indulgent one) enhance the ideas put forward
Subscribe

England Football Team World Cup Blog RSS Feed

Share
blog comments powered by Disqus