Factory Records Peter Saville creates New England Shirt
September 2nd, 2010 | by: Rob |

View Comments
Get your England Shirts in our online store.
Well this is unexpected.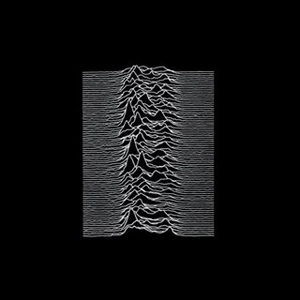 Peter Saville, who you might know as the man who designed the sleeves to some of Factory Records most iconic sleeves has been working on a new England shirt, which the team will run out in against Bulgaria on Friday.

Now some of you may remember last March when we sat looking quizzical at the hype and ridiculousness that surrounded the unvieling of that kit – fake leaked kits, super secrecy, a big reveal on the pitch, so its kind of surprising that this kit has been a) announced really quite soon after the last one and b) they've told us what it is instead of making the players wear trackie tops and the unveil them at the last minute.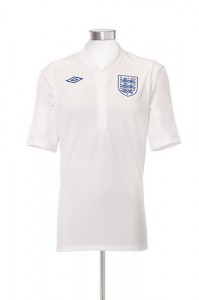 The shirt looks isn't hugely different from the last one, but it is a bit better. The collar looks a bit different. It has some weird crosses on the back, which apparently represent all the different people and how diverse England is. Which is a nice sentiment. Maybe they were hoping to be diverse enough to have a Spanish midfielder playing for us?
One thing I like, is that we are back to blue shorts. They are a lighter blue than some of England kits, though they remind me of the classic 1982 shorts, and still, Blue is better than White, with a white shirt. But it doesn't live up to some of our classic kits, like say – Euro 1996 (what happened to the trend of football shirts having the badge in the middle, by the way? I like it) or the aforementioned 1982 kit. But the more I look at it, the more I like it. Though maybe that's just a fondness for Joy Division and New Order speaking. I do think its better than the last one, which was not so much "back to basics" as "sort of plain".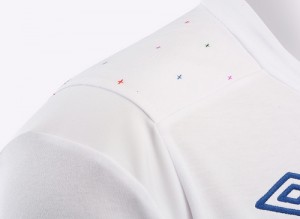 The shirt is perhaps, a bit plain to look at though. It could do with a bit of blue on the front to break up the starkness of the white. Maybe that's just me tough.
Its available in the shops in October, so until then you'll have to just wear the one you already have.
Subscribe

England Football Team World Cup Blog RSS Feed

Share
blog comments powered by Disqus