If Spain Can Do It…
July 1st, 2008 | by: Daryl |

View Comments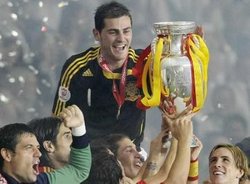 …why can't we?
I always thought of Spain as our brothers in underachievement. Lots of quality players, but never in danger of actually winning another trophy. We even won our last trophies at about the same (Spain Euro '64, England WC '66). Their failure made me feel better about ours.
But Spain went and ruined all that on Sunday.

Now Spain are Euro 2008 champions, they no longer flatter to deceive. Which basically leaves just England as the only nation that is theoretically good enough to win something but can't get our shit together.
The good news is that Euro 2008 is over. Our absence was a disgrace, but at least it's all in the past now.
Hopefully we can take the positives from our failure to qualify, as follows:
1. We wouldn't have done well at Euro 2008 with Steve McClaren anyway
2. McClared out, Capello in. That's an upgrade
3. Failure to qualify will have cut some England egos down to size, which has to be a good thing.
So here's to the 2010 World Cup. Let's hope we'll be involved.
Subscribe

England Football Team World Cup Blog RSS Feed

Share
blog comments powered by Disqus