Four Associations Cup – a Missed Opportunity
September 23rd, 2008 | by: Daryl |

View Comments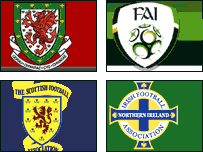 So the Four Associations Cup is go for 2011. Scotland, Wales, Northern Ireland and Ireland will compete in a round robin league format with two matches in February 2011 and the rest in May. All games will take place at a (by then) refurbished Lansdowne Road in Dublin.
So it's basically the old Home Nations tournament (dead since 1984) but with Ireland taking the place of England. Which is why some are calling it the Celtic Cup.
Why no England? Here's the impossibly dull official reason:
As there are limited international dates for opportunities to play nations from outside Europe, we like to use several dates to play teams from South America, Africa and Asia," explained a spokesperson for the English FA.

"We have played several fixtures against the home nations since 1999 and our preference is to play one-off games rather than a tournament – if they fit in with the manager's plans."

What total bullshit. In an age where England friendlies are struggling to stir public interest (or sometimes player interest) this tournament would have been perfect. Lots of pride at stake and the all important factor of something at stake.
It would have been a perfect opportunity to give players a taste of tournament football and to see how certain untested players react to playing for England in a big game.
You can't tell me that England players get more out of a dull Wembley friendly against say Japan or Ecuador than they would out of a competitive game where the opposition is gunning for you.
Not only that, it would likely have been a money spinner for the English FA, particularly if they were ever to host the event. So I suspect they're not being entirely honest with us.
My guess is that the decision not to get involved is more to do with a fear of trouble than anything else. For multiple historical reasons, there's a definite potential for crowd violence in games between England and any other team from the British Isles. Sad but true. And maybe the FA are doing everyone a favour by not pointing that out and making a big deal out of it.
But here's hoping that at some point in the future the Four Associations Cup can become the Five Associations Cup and England can get involved without any problems.
Subscribe

England Football Team World Cup Blog RSS Feed

Share
blog comments powered by Disqus