Joe Cole's career is symptomatic of everything that is wrong with English football
July 22nd, 2010 | by: Ethan Dean-Richards |

View Comments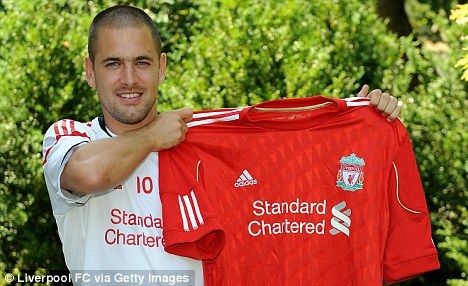 Joe has himself a Liverpool jersey – it may well be a good move, but he is still an apt example of the counter-productive manner in which English football treats its creative players. 
English football is full of ill-conceived ideas, but its predilection for heart and graft over art and craft is the most frustrating of them all. This week, with Joe Cole's move to Liverpool confirmed and a place on the left wing waiting for him, was just another reminder – after the World Cup – of what the flawed football culture in this country does to players with more talent than 'guts'. 
At 17 Joe Cole was the hottest star in England and a classic number 10. His ability to find space and substantiate his play with goals and assists made him an excellent player to watch and an effective enough player to be linked with a £10 million move to Manchester United. And yet, ten years on and Cole finds himself moving to Liverpool on a free transfer following marginalisation at Chelsea, where he was unable to get into the team and forced out wide when he did get a game. His experience in South Africa, where he made two brief substitute appearances for England on the wing, ran around a lot, but ultimately failed to live up to the media hype beforehand, summed up his career to date.  
Mourinho - acting as an agent of English football - started the transformation from butterfly to caterpillar when he arrived at Chelsea and insisted that Cole worked harder tracking back and played him on the left-hand side of a midfield five. The Special One argued that teams – in the Premier League and European competitions – couldn't afford a player with the kind of purely attacking mandate Cole had become accustomed to at West Ham, particularly in a central position.
Quickly, Cole moved from a classic number 10, to a rudimentary wide-man with strict defensive duties. And at the time the move was lauded as a crucial part of his development into a more well-rounded, better player. Mourinho explained that he wanted him to keep his "beautiful face" and only replace his "other face" which saw him lacking when "[Mourinho] needed 11 players for [his] defensive organisation and [he] had just 10″.  And it worked for Chelsea, just as Wesley Sneijder's defensive efforts worked for Mourinho's Inter last season, but it nullified Cole's attacking instincts far more than it did Sneijder's – he has just 13 assists to show for his last 3 seasons of football.
Adding hard work to the likes of Joe Cole's game, logically, restricts them – it is not simply an added dimension. An attacking player's defensive duties are essentially about pressing opposition space: not only does that make their own search for space difficult: it is a directly competing priority. The two can be done successfully, as Sneijder has shown, yet the compromise remains significant and a burden that most players cannot handle – it made Joe Cole less of a joy to watch and, ironically, less effective as his falling number of assists shows.
Interestingly, Fabio Capello, with experience beyond English football, has also shied away from offering a free-role to the new Liverpool signing, or any other player for that matter. Yet Capello's scepticism, rather than representative of the football world's, is a symptom of the conservative coaches that the FA favour when making appointments – Steve McClaren and Sven Goran Eriksson were both defensively orientated. The World Cup showed us – or those of us that hadn't been watching the Champions League at least – that the most successful teams benefit from creative players free of defensive responsibilities. Spain has Xavi and Iniesta, the Netherlands has Sneijder, Germany has Ozil, England has…no-one.
England has no-one because Joe Cole is one of many players to have fallen victim to English insistence on rigidity – namely, a dislike of number 10s. Wayne Rooney, for one,  was touted as a link man in his early Everton days and even after his move to Manchester United, where he began playing off Ruud Van Nistelrooy. However, his lack of goals led to allegations of unfulfilled potential, until last season when Sir Alex moved him further up the pitch to become a – yes – rudimentary striker.
What's the problem – Rooney was excellent alone up-front? For Manchester United, a team that boasts two excellent wingers (Nani and Antonio Valencia) to supply the ammunition, there is no problem. But for England, Rooney's reliance on other players is limiting and can leave him isolated (even with a subservient partner up-front with him, offering support) because – and this, ironically, completes the cycle – there are so few players in the squad that can create the opportunities he craves.
English football still treats play with aesthetic value with suspicion, regardless of its outcome. It is this same suspicion that leads to assertions about Spain's tiki taka, regardless of its success, being somehow superfluous. And as long as that mentality remains, English football will always find ways to eliminate creative players from its midst. It will negate their abilities by forcing them to track back, it will push them into simplistic roles that it can understand, or, worst of all, it will injure them so that they can't play at all. Ask Joe Cole.
Subscribe

England Football Team World Cup Blog RSS Feed

Share
blog comments powered by Disqus