Why England vs Belarus is Actually Quite Exciting
October 13th, 2009 | by: Daryl |

View Comments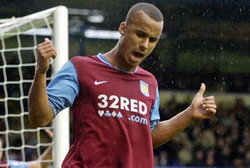 Weirdly, I'm kind of excited for England vs Belarus. Neither team has anything to play for, but with Rooney and Gerrard out injured (or as The Fiver put it yesterday: "Wayne Rooney has pulled out of the game against Belarus at Wembley with a severe case of having his wages paid by Manchester United.") we get a chance to see some of the squad players have a run out.
Capello has confirmed that his starting strikers will be… Peter Crouch and Gabby Agbonlahor. Smart money would also be on James Milner to start on the left in Gerrard's place, and Aaron Lennon to get the 90 minutes that was denied him on Saturday when he was the substitute victim of Robert Green's sending off.
So it will be a different looking England team. Maybe even a different formation. Here's what the boss man had to say:
"I want to see Agbonlahor and the other players," said Capello. "I will do a lot of 'experiments'. We need a different plan, and a different style sometimes. We have played more or less the same style in all the games we've played. Sometimes, during the friendly games, we've changed it but we need to practise other styles. I want to see some players in this game playing in a different set-up. We will need to play other styles, to have a plan A, a plan B and a plan C. The games before the World Cup will be very important for me to learn about the players and the different styles we can use."
Rio Ferdinand definitly will play, mostly because he looks like he needs some match practice. Outside of that, who knows? And that's why this game is quite exciting. The England team has picked itself for more or less this whole qualifying campaign, but looks like Capello will have a few surprises for us tomorrow.
Subscribe

England Football Team World Cup Blog RSS Feed

Share
blog comments powered by Disqus