Who Should We Support in the Euros? No One.
June 7th, 2008 | by: Daryl |

View Comments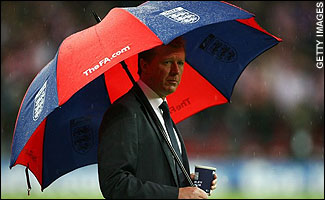 So, Euro 2008 starts today and – unless there's been some major event I'm unaware of – England won't be there.
Instead of the usual (over) optimisms about England's chances, the question on all the English/British media's lip is: "Who Will You Support?" The BBC's tournament coverage is even built around the slogan.
So, I've given this a lot of thought and come to a decision below…

No one.
England aren't there, so there's no one to support. You can't just suddenly starts supporting Spain or Portugal out of thin air, no matter how many of your club team's players are on the squad.
Supporting means investing your emotions in something you're connected to forever.
So the only sensible answer for England fans is to just accept that our team had failed (which I think we've more or less come to terms with) and sit back and enjoy three weeks of quality football, free of the stress and disappointment that's accompanied watching England at international tournaments recently.
And if that doesn't sound too appetizing, there's always the cricket.
Subscribe

England Football Team World Cup Blog RSS Feed

Share
blog comments powered by Disqus