Wayne Rooney Was There Too You Know
September 12th, 2008 | by: Daryl |

View Comments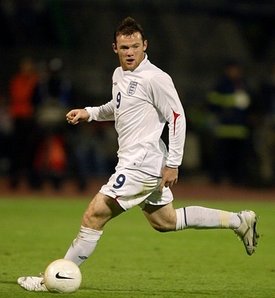 Now that Theo-mania is dying down (actually it's not, but just just pretend it is) I think it's time we mentioned Wayne Rooney. The Shrek lookalike has been in not-great form for England shirt recently. And I'm not just talking about the lack of goals, I mostly don't care about that, it's more that he'd been a bit.. blerg. Not really creating anything, always looking a bit frustrated.
But against Croatia, especially in the second half, Wayne Rooney was outstanding. He was the playmaker England haven't had since forver. Someone England could rely on to get the ball and make things happen going forward.
Check the goals again here. The first goal Theo pounces on that horrible/hilarious Croatian defensive mistake.
But the next three were all Rooney.
He's at the heart of Theo's second – passing and moving and playing off Heskey before slipping the youngster through with a great pass. He scores England's third from Jenas' low cross, and then it's his absolute beaut of a through ball that puts Walcott through for the fourth.
I'm convinced that part of Rooney's struggles since Euro 2004 (he never really recpatured that form did he?) was as much the lack of a suitable partner as it was the bizarre idea that he could play anywhere (wide left, wide right, alone up front) and still be at his best.
But with Heskey providing a target man for Rooney to play behind, Capello seems to have found the magic formula. Now go wrap those metatarsals in cotton wool Wayne, before something happens.
Subscribe

England Football Team World Cup Blog RSS Feed

Share
blog comments powered by Disqus