Spanglish?
October 26th, 2008 | by: Daryl |

View Comments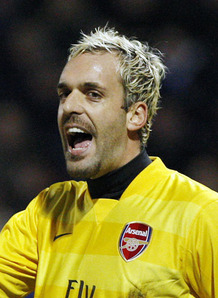 Wow. England must be doing well, because all of a sudden even non-English players want to play for us.
Arsenal keeper Manuel Almunia will become a British citizen in the summer of 2009, and has said that he'd be keen to play for England:
"The opportunity is there and I'll follow it for as long as the possibility of playing for England remains open. I don't think playing for Spain is an option, they have enough 'keepers, it's not their biggest problem. If I got a British passport then I would be able to play for England and, at the moment, I feel very English. I am very happy living in this country. The people are always very welcoming and I have made many friends."
The question is, would we want him?

I'd argue he's a damn good keeper, and you definitely have to respect anyone who can anger Jens Lehmann as profoundly as Almunia did. But he doesn't necessarily offer us anything all that much better than James, Green, Carson, Robinson, Kirkland etc. He's a little better, maybe, but this isn't Iker Casillas we're talking about. Which is sort of the point.
The only reason Almunia's interested in playing for England is that he knows playing for Spain is a long shot. Casillas, Pepe Reina, Victor Valdes and probably a few other Spanish glove-wearers are ahead of him in the cue. Besides the whole argument feels a little flimsy. You can't just adopt a national team because "the people are always very welcoming." Can you?
I'm not 100% against England adopting talent. When it's someone like Kevin Pietersen, that's just too much talent to turn down. And even then, Pietersen had an English mother. But Almunia isn't on that level. If he's going to become British then maybe Scotland, Wales or Norn' Iron could use him?
Everton's Mkiel Arteta is a different question. He'll be getting citizenship (should he want it) in January 2010, and there's a campaign underway to get him in an England shirt. However, as Chris has pointed out, the chances of him still being uncapped by Spain at that point must be pretty slim, so we'll probably never have to answer that question.
But if we did… I honestly don't know how I'd feel about it. Might all depend on how the Lampard/Gerrard thing is working out.
Subscribe

England Football Team World Cup Blog RSS Feed

Share
blog comments powered by Disqus