On Darren Bent, and How Scoring Goals in the League Doesn't Guarantee International Recognition
October 19th, 2009 | by: Daryl |

View Comments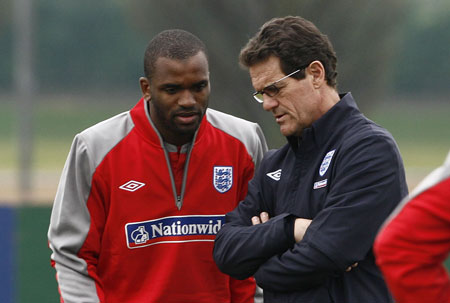 Darren Bent's matchwinning goal for Sunderland this weekend was somewhat overshadowed by the fact that it hit a beach ball on the way in. But the fact is that – beach ball deflection or not – Darren Bent scored again. Against good opposition. Bent isn't just the highest scoring English player in the Premier League right now with eight goals, he's also the joint highest scoring player in the Premier League alongside Fernando Torres. Yet he's still not in the England squad.
Don't worry. This isn't another Darren Bent for England post. Not exactly. It's more just me having a bit of a ponder about how there's always someone in good form who can't crack the English national team.
Before Bent there was Kevin Phillips. Remember when he was scoring left, right and center for Sunderland, but Kevin Keegan pretty much ignore him for national team duty? Similar things have happened to Andy Johnson, Kevin Davies, James Beattie and others. It could also happen with Michael Owen, if and when he gets on a consistent goalscoring run for Man Utd (unfortunately I don't think the own goal he forced Zat Knight on Saturday counts, as it was off target before Knight's intervention).
Basically, scoring goals in England's top flight is no guarantee of international selection. Never has been. It's just a guarantee of a medium sized media/fan driven campaign to get you selected. But at a certain point, it's worth respecting the manager. I've praised Fabio Capello on this blog for picking an England team where all the pieces fit together nicely. Emile Heskey as target man, Roony behind him. Seems that either Bent hasn't impressed Capello in training and/or in an England shirt and doesn't see him being effective in the current setup.
Or maybe it's a personal thing. Maybe Capello just doesn't like Darren Bent. Maybe he thought the whole Twitter business was unprofessional (although, it got the job done) and so isn't inclined to include him in the 23.
Bottom line is that number. Twenty-three. There are only 23 places available in an England squad. Someone always has to miss out, and it's up to Fabio Capello to decide who those unfortunate souls are. Capello is building a team and a squad based on the players he wants. Players like Peter Crouch and Jermain Defoe, and maybe Gabby Agbonlahor. Since Capello has gotten us this far, I trust him. We can't try and over-rule him every time an English striker hits a purple patch and bags a few goals.
If you disagree with that last sentence then I have two words for you. Those words are: Michael Ricketts.
Subscribe

England Football Team World Cup Blog RSS Feed

Share
blog comments powered by Disqus