Michael Owen to Man Utd: Good News for England
July 3rd, 2009 | by: Daryl |

View Comments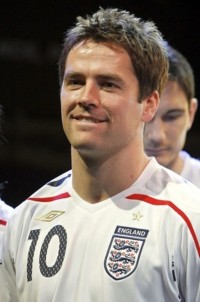 Seems like forever since Michael Owen was an England regular. These days, when I pick the team in my head (I spend a lot of time doing that by the way, right now it goes: James, Johnson, Cole, Terry, Ferdinand, Walcott, Gerrard, Barry, Lampard, Rooney, Heskey) poor old Micky doesn't even come into consideration.
OK, so Owen hasn't had any sort of form or fitness. But the scary thing is that we haven't missed him one bit recently. I think mostly because he doesn't really compliment Rooney all that well. Rooney seems to do best playing as a support striker (or "second striker" or "in the hole" or whatever you want to call it) with a big target man ahead of him (here's looking at you Emile). So that really leaves no room for Owen in the starting XI. But that doesn't mean Man Utd's latest signing has no role to play.

It's not clear exactly where Alex Ferguson intends to use Owen at Man Utd. Starter or super-sub? And what sort of formation will Utd use next season? That all remains to be seen.
Clearly, Owen doesn't have his old pace anymore. And there's not many who would argue he's particularly versatile or contributes much of anything outside the penalty area. But – and it's a cliche for a reason – he's got that goalscoring instinct. And you've got to think he'll get a few more chances fall his way in a Man Utd shirt than he did in black and white stripes.
Si if Owen can prove his fitness and rediscover some form, then I'd welcome him back into the England squad with open arms. Not into the first team. I want to see the big man + Rooney combo. But if there's half an hour left in a World Cup quarter-final and we're desperate for a goal, I can't think of anyone I'd rather see coming off the bench than Michael Owen.
Subscribe

England Football Team World Cup Blog RSS Feed

Share
blog comments powered by Disqus